Your Guide to Retail Cleaning Services
Posted on 21 June 2023
Running a big retail store in a mall can be time-consuming. Managing employees and running inventory makes it hard to keep up with everything. Many enjoy a clean environment when they shop, and it's hard to keep it that way with people coming in and out of the store. We Clean It is a commercial cleaning service that can help. We pride ourselves on ensuring your store is ready daily for customers. We also provide cleaning services for all commercial spaces, like school and office cleaning in Toronto.
Learn more about how retail commercial cleaning can help your business.
Benefits of Commercial Cleanig for Retail Spaces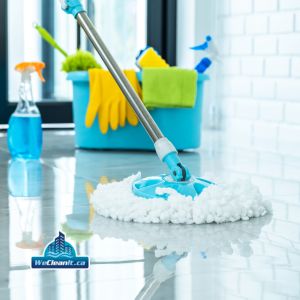 Any commercial space sees new faces every day, so leaving an excellent first impression is essential. Having a clean space can immensely impact one's experience in your store.
There are tons of ways hiring a cleaning service can be beneficial:
We have the right tools and supplies to leave your store germ-free and safe
This leaves you and your employees more downtime
Can create a cleaning schedule that works for you
You are guaranteed to get top-notch service without leaving anything behind
Commercial cleaning makes everyone's life easier, getting the job done efficiently with our team to ensure complete satisfaction. Having this service part of your routine can secure tidiness every day from the night before, as we work after hours.
Wide Range of Services Available
We offer a variety of services that tackle every surface, including:
Sales floors and high-traffic areas
Storage rooms, offices, and other backrooms
Employee rooms
All bathrooms (public and private)
Kitchens
Fixtures, shelves, displays
Entry points
Flooring and carpets
Windows, walls, counters, etc.
We make it our mission to clean every possible surface in your business. With our team of professionals, we get the job done. We understand that everything must be visually perfect, as retail is all about the aesthetic of things. Shoppers are likely to spend more time in a cleaner and tidier store. A clean store also ensures no dirt buildup over time and is free of bugs.
Benefits of Store Back Office Cleaning in Toronto
The back office of a retail store plays a vital role in ensuring smooth operations and efficient management of various administrative tasks. It serves as the nerve center where inventory management, accounting, payroll, and other crucial functions take place. Maintaining cleanliness and order in the back office is essential for optimal productivity. Commercial office cleaning services in Toronto offer a range of benefits for retail businesses. Firstly, a clean and organized back office enhances efficiency by reducing clutter and improving workflow. Secondly, it creates a professional and inviting atmosphere, boosting employee morale and creating a positive working environment. Additionally, regular cleaning promotes a healthy workplace, minimizing the spread of germs and contributing to employee well-being. Outsourcing office cleaning tasks to professionals in Toronto allows retail stores to focus on their core competencies while ensuring a clean and functional back office.
Health and Safety with Cleaning Services
The team at We Clean It is trained in WHMIS (Workplace Hazardous Materials) to ensure we are working in a safe environment with safe products and have your space safe from chemicals and dirt. Our products are also eco-friendly and non-toxic, ensuring we stay environmentally conscious. We take care of cleaning your space while keeping the earth clean.
Office Cleaning in Toronto & Mississauga
No matter the size of your commercial space, we have it covered. We Clean It is available to businesses of all sizes in and around the GTA. We are 100% Canadian-owned, helping our local companies to stay clean and running. Our team is highly qualified, equipped with modern equipment and technology. Contact us today to get your spaces cleaned.