Floor Care
The professionals at We Clean It provide floor care solutions for facilities of all sizes. Our floor care crews operate in Toronto, Vaughan, Etobicoke, Mississauga and throughout the GTA, offering a full service approach that can be customized to suit specific client needs, enhancing office cleaning in Toronto. Our floor care crews are well trained in floor care methodologies, and are experienced with all types of cleaning products and applications. Whatever the need - whatever the size - We Clean It can come up with a floor care solution.
At We Clean It, we do it all when it comes to floor care. We top scrub - to remove dirt, stains and scuffs. We deep scrub - to prepare the flooring for a new finish. And we strip and wax –particularly when waxing large floors. Our floor care crews use high quality cleaning products and special equipment to ensure a clean and hygienic finish, while maintaining the original condition of the floor. All things considered, we do a quality job, and deliver quality results.
For the professionals at We Clean It, regular and ongoing floor maintenance is the preferred approach. It's floor care that keeps everything clean and presentable, while ensuring long life. Indeed, in larger facilities, preventive floor care is key to assuring longer life for floor material of all types. As such, We Clean It will customize a floor care program to suit the precise floor type in question. Product options and floor care techniques are combined for best results.
Stripping and Refinishing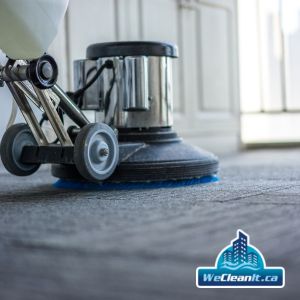 Our floor stripping process begins with the removal of scratches and imperfections, followed by a thorough cleaning and rinse. This is a quality approach to floor preparation, which precedes the refinishing step. For refinishing, a new finish is applied, relevant to client pre-requisites. Ongoing, appropriate floor care is required to ensure the best possible maintenance.
Buffing and Burnishing
Floor care in large facilities can pose challenges. These are expansive spaces. Some of them are comprised of marble; some of vinyl composition tile; and some, with acrylic finish. Many of these surfaces require floor care that includes buffing and restoring. And in these situations, We Clean It can schedule floor care that best suits the traffic flow of the facility.
Green Cleaning Products
At We Clean It, the floor care crews use cleaning products that are environmentally friendly. This is of benefit to residents and occupants, as well as the environment. We also do our best to minimize water usage and hydro usage, which in itself conserves energy and saves money. As a company, it's our way of ensuring high quality floor care, while operating responsibly.
We Clean It can handle practically any floor care requisition. Our floor care crews can provide service on a quarterly basis, a monthly basis, even a daily basis - and we can accommodate every type of space - from a conventional office lobby to a vast car showroom. For large, retail environments, our reliable floor care service (during off hours) is easily managed. Best of all for our clients – our work isn't complete until our customers are 100% satisfied. We Clean It is a leading commerical cleaning company providing a range of janitorial services for all types of commercial spaces.
Contact Us Today And Get A Free Quote