Mississauga Commercial Cleaning Services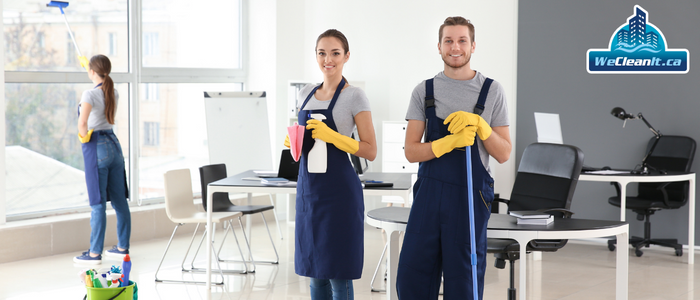 Give your commercial space the clean it deserves with high-quality commercial cleaning services in Mississauga, and We Clean It.
Big or small, We Clean It is your trusted provider for reliable janitorial services and commercial office cleaning services in Mississauga. Explore the potential of commercial cleaning services in Mississauga and refresh your space with ease.
We Clean It has been providing commercial customers in the Mississauga, Toronto and GTA area with high quality, customized commercial cleaning solutions for more than 20 years.
Could Your Facility Use Janitorial Services from We Clean It?
Every commercial space needs to be cleaned to preserve indoor air quality and the appearance of your office. If you or your staff are losing hours of productivity every day tidying up, consider streamlining your cleaning with janitorial services in Mississauga, you can trust and put your energy towards meeting goals and growing your bottom line.
Have you noticed any of the following around your workplace?
Overflowing bins and trash?
Clutter eclipsing surfaces?
Noticeable dust or dirt on fixtures?
Increased illness or absences among employees?
Lunch breaks being taken at workstations rather than break rooms?
A decrease in productivity?
Commercial cleaning services in Mississauga can help boost the employee and customer experience at your office by taking the strains of in-house commercial or office cleaning off your plate, so you can maintain a workspace conducive to productivity and free of pathogens.
Establish a welcoming and fresh environment without picking up a broom.
Janitorial Services in Mississauga You Can Count On
At We Clean It, our expert commercial cleaning teams will customize a comprehensive and effective cleaning plan tailored to your needs and makes sense for your business. We offer a range of janitorial services to disinfect and refresh your office or commercial spaces.
Our Commercial Cleaning Services in Mississauga Include:
Floor, Area Rug & Carpet Cleaning Services
Washroom, Lunchroom & Breakroom Cleaning
Furniture, Drapery & Blinds Cleaning
HVAC & Duct Cleaning
Window & Door Cleaning
Sink Cleaning
Concrete & Natural Stone Cleaning
Office Cleaning Services (Workstation & Desk Cleaning)
Disinfection & Sanitization Services
Garbage Removal & Disposal
Find the Janitorial Services that are Right for Your Business in Mississauga. Contact We Clean It.
Commercial Cleaning Services for Your Business
Commercial spaces vary greatly depending on the nature of your business and the functionality of your facility. We Clean It is experienced in delivering high-quality janitorial services to a variety of spaces. Our teams are equipped with the technology and knowledge to execute everything, including warehouse and office cleaning services in Mississauga and everything in between.
Trust the We Clean It Cleaning Services for:
Medical & Dental Offices
Retail Stores & Showrooms
Restaurant & Event Venues
Schools & Educational Facilities
Warehouses & Industrial Spaces
Gyms, Spas & Salons
And much more.
Talk to our team today to learn how we tackle commercial cleaning services for your business in Mississauga.
Why Choose We Clean It for Commercial Cleaning in Mississauga
Hiring reputable commercial cleaning services in Mississauga for your business allows you to save time, enable efficiencies, and increase profitability. The team at We Clean It maintains a high standard of work that ensures you maintain an office or facility that makes employees happy to come to work every morning and leaves visiting customers or vendors impressed.
At We Clean It, we centre our janitorial services around your businesses. When you choose our team, you get flexible service options and high-quality results every time.
Contact We Clean It For A Commercial Cleaning Services Estimate Today
CHOOSE A COMMERCIAL CLEANING COMPANY IN MISSISSAUGA THAT DELIVERS RESULTS & BECOMES A PART OF YOUR TEAM.
1

Provide detailed scope of work

Provide details of services needed and for locations
Share requirements, i.e., service hours, cleaning days, consumables required etc.

Legal business name and years of experience
Types of business and clients served etc.

Request company profile from vendor

2

3

Provide additional requirements

List services that you might need on demand such as deep carpet cleaning, floor wax, area rugs cleaning etc.

Develop your company's evaluation criteria for decision-making, i.e., cost, experience, credentials, resources etc.

Develop an evaluation criteria

4

5

Invoicing and payments

Specify payment terms, billing and invoicing dates, payment channels, etc.