Why Include Ducts in Commercial Cleaning
Posted on 06 June 2023
Commercial cleaning in Toronto is essential to running your business to its highest standards. Regularly scheduled commercial cleaning ensures your employees have a clean and healthy workplace, and it provides your customers, clients, and investors with a positive impression of your business. Office cleaning in Toronto is best performed by professional and experienced cleaners, so it is thorough, corners aren't cut, and spaces are cleaned that might not have been considered, such as the HVAC and Ducts.
We Clean It is an excellent commercial cleaning partner for you and your company as We Clean It provides professional and insured cleaners, uses eco-friendly practices and provides a range of cleaning services for you to choose from.
Keep reading to learn why HVAC and Duct cleaning are essential for your business.
Boost Morale with HVAC and Duct Cleaning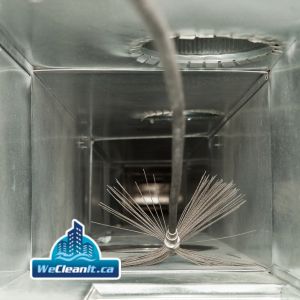 Commercial cleaning in Toronto provides a variety of services to deep clean your commercial space. HVAC and Duct cleaning is critical as it provides numerous benefits to your workforce. HVAC and Duct cleaning involves removing mold, and allergens which will help keep your team healthier, keep the air cleaner in your offices and help increase morale.
You will notice fewer employee sick days and a more productive workforce. At the end of the day, everyone appreciates working in a clean and hygienic environment. That appreciation will be carried over into the level and quality of work that your employees perform.
Keep Premises Cleaner Longer
Suppose you notice your office becomes dusty really quickly after an office cleaning in Toronto. In that case, you'll appreciate that once your ducts and HVAC are thoroughly cleaned, your premises will stay cleaner longer. Since all the dust and debris will be thoroughly removed, it won't be blown out whenever the heater or air conditioner is turned on. So you will notice your business will stay cleaner longer and not start getting dusty by mid-day.
Lower Energy Bills with Commercial Cleaning in Toronto
HVAC and duct cleaning allows your HVAC system to run more efficiently since all the dirt and buildup have been removed. A more efficient HVAC system means you will save on utility costs as your system doesn't need to work harder to balance the temperatures.
How to Know if Your Ducts Need Cleaning
If you look at the vents, they may be covered with debris or mold, indicating they may need to be cleaned. If you begin to smell a foul odour every time the HVAC runs, this is also an indication that your ducts need cleaning. Even if your premises become dusty quickly, this is a common indication that your ducts need to be cleaned.
We Clean It for HVAC and Duct Cleaning
We Clean It uses advanced equipment, green practices and highly trained and skilled cleaners to keep your business clean. We have been in the industry for over 20 years, achieving customer satisfaction with our thorough work and commitment to results. We work flexible schedules and are happy to customize solutions for your business's needs.