How Cleaning Services For Businesses Support the Return to the Workplace
Posted on 21 June 2022
Is your business/office prepared for 'the great return to the workplace? With more and more businesses and offices finally having employees back to work, there is still lingering concern about the health and safety of workspaces. To streamline this transition back to the workplace, office cleaning services for businesses are an invaluable asset. Effective planning is key to reopening—and professional cleaning services for businesses are integral to a successful back-to-office strategy. Office cleaning can help employers keep their workspaces up to standard, making employees more comfortable and excited to return. Here's why:
Trust & Peace of Mind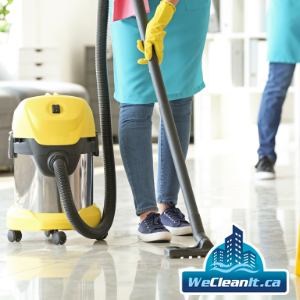 While employees look forward to morning cuppas and creative brainstorming sessions with colleagues, there are also concerns about health and safety. Recent surveys indicate that employees are anxious about possible Covid infections at the workplace. A clean and sanitized workspace can allay fears and give employees the confidence to return with a positive mindset. Hiring a commercial office cleaning company in Toronto will ensure that frequently used spaces and high-touch point areas are appropriately disinfected. This step will build trust and confidence amongst employees and show that the company is committed to their safety and well-being. Seeing sanitation professionals disinfecting and cleaning the office will provide valuable peace of mind and reduce anxiety about returning to work.
Reduce Illnesses
Cleaning today's workspaces goes far beyond the traditional dusting and vacuuming.
The post-pandemic world requires frequent and ongoing disinfection and enhanced cleaning regimens. Viral and bacterial infections can cause an outbreak of disease, so it is essential to ensure a safe and sanitized work environment. Covid in the workspace can have serious repercussions, including closure for a limited time to stop the spread. Maintaining high hygiene and cleanliness standards are crucial to managing Covid risks for employees, clients and the public. Engaging a professional office cleaning company in Toronto ensures high cleaning standards and effective disinfection procedures to reduce potential threats.
Improve Productivity & Morale
High employee morale plays a vital role in the success of any business. If the employees are happy, there is increased collaboration and productivity. Transforming the office into a safe and pleasant environment can keep the spirits and bottom line high. A clutter-free and clean office can help your staff focus on the job. Providing your staff with a clean, comfortable, and safe workspace is a great way to show your appreciation and boost employee morale. Outsourcing your cleaning requirements will help create a pristine and productive work environment.
Enable Special Events
Return to work also means resumption of office routines and work culture. Client meetings or special events like celebrations and birthdays may be back again. Here's where a commercial cleaning company can help with added support during special occasions and events. Leave office cleaning to the professionals while you focus on what matters the most—keeping clients & staff happy!
A Proactive Return to Office Cleaning Plan with We Clean It
Return to off-line work can be a breeze when you hire the right office cleaning company in Toronto. Give your staff peace of mind and safety with commercial cleaning services from We Clean It. As a premier cleaning service for businesses in Toronto, we remain committed to flawless cleaning with utmost integrity, trust, and honesty. Team We Clean It will be delighted to create a custom back-to-office cleaning plan for you.
Contact us today to schedule a free online or in-person consultation!