5 Industries Needing Cleaning Services in Scarborough
Posted on 02 February 2021
Most of us spend a major part of our waking hours at work. All the more reason for a clean and healthier work environment, especially in these pandemic times. Whether you hire a janitor or engage a commercial Scarborough cleaners service, a safe, clean, & healthy workplace is essential for any business or industry. Here are five industries that need commercial cleaning services in Scarborough: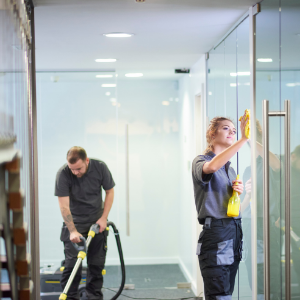 #1 Educational Institutions
Maintaining a clean and safe learning environment for hundreds of students everyday is a challenging task for all schools and colleges. More so during the coronavirus pandemic when sanitizing and ensuring a healthy facility is a major concern. Hiring a professional cleaning service in Scarborough will help you with daily cleaning, disinfecting and sanitizing tasks. By using green cleaning products and special sanitizing solutions, commercial cleaners can help eradicate disease-causing germs, viruses and bacteria to keep students and staff protected.
#2 Healthcare Facilities
Medical facilities require an extra layer of cleaning protocols for ensuring a sterile and pathogen-free environment. Protecting patients and workers from healthcare-associated infections and cross-contamination is especially important. Utilizing commercial cleaning services in Scarborough will go a long way to keep healthcare facilities sanitary, clean and disinfected. A professional cleaning crew will deep-clean and disinfect your medical facility with the strictest regulation-compliant, certified cleaning regimens. Apart from hospitals and clinics, dental offices, dermatologists, blood-banks, physical therapists, even gyms and sports facilities can benefit from commercial Scarborough cleaners.
#3 Retail Facilities
Spotlessly clean and welcoming shopping facilities & retail stores ensure higher footfall and higher profits. One of the first things retail customers notice is cleanliness and ambience. Keep your stores and shopping centres sanitized and pristine with regular retail cleaning services in Scarborough.
#4 Hospitality Industry & Restaurants
From fast food & fine dining restaurants to five-star establishments, the hospitality industry needs top-tier cleaning standards. Impressions and the business image is everything in the hospitality sector, and maintaining a cleanand welcoming environment is vital to survive and thrive! A dedicated cleaning crew committed to a spotless facility for guests is almost mandatory for restaurants and hotels. Hiring commercial cleaning services in Scarborough like We Clean It will ensure you have trained professionals to delve deep into every nook & cranny of your establishment for a really deep clean!
#5 Office Buildings
A clean office not only reflects on your business values but is necessary for boosting employee health, morale, and productivity. Hiring a commercial cleaning company for your office cleaning needs will save you time, effort, and hassle of cleaning daily. You and your employees can focus on your core work without worrying about a shabby office. Whether you need daily/weekly cleaning or deep cleaning services for a spic-n-span office space, engaging commercial cleaning services in Scarborough makes business sense.
Looking for Commercial Cleaning Services in Scarborough?
We Clean It has you covered! With more than 20 years of cleaning expertise, We Clean It is committed to providing a seamless cleaning experience. Our world-class cleaning crew is trained to meet and exceed your cleaning expectations. Customer-centred cleaning solutions, attention to detail, and highest-quality tools & products ensure that you put your best foot forward every day! Call us today at 647-999-6898 for cost-effective and efficient cleaning solutions for cleaning needs! Or email us at info@wecleanit.ca for more information about our services.