Commercial Cleaning Services in Etobicoke
For many business owners, a clean space provides a motivating environment and gives visitors a lasting impression. With clutter, dirt, or allergens, it makes for an unproductive place to work and concentrate. Thankfully, We Clean It offers professional commercial cleaning services that will leave your team with increased morale and productivity, allowing everyone to feel better about the space they're working in. There's no better way to achieve a squeaky clean workspace than professional commercial office cleaning services in Etobicoke.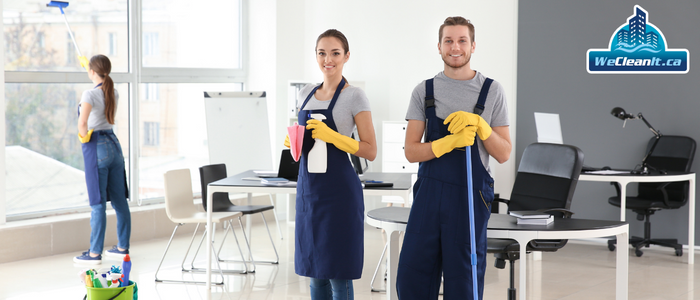 As an expert cleaning company with years of experience, we know what it takes to get your place spick and span in a flash. Our team is available around the clock to provide exceptional commercial cleaning services including reliable janitorial services regardless of your business hours. At We Clean It, we offer cleaning services to various commercial properties, such as:
Retail Stores
Shopping Plazas, Malls, Power Centers
Hotels, Restaurants & Event Venues
Offices, Clinics, Hospitals & Elder Care Facilities
Schools, Universities & Colleges
Gyms, Spas & Salons
Factories, Industrial Facilities & Warehouses
And much more!
Are you interested in commercial cleaning in Etobicoke?
Benefits of Commercial Cleaning Services
Increased Productivity: Increased productivity is one of the most significant benefits of having a clean workplace. Studies have shown that employees respond positively to a clean workspace as it's much easier to focus on tasks. In addition, it helps with long-term satisfaction at work, making for a loyal and committed employee. For superior commercial cleaning services, contact the professionals at We Clean It.
Fewer Employee Sick Days: Cleaning services for your commercial business are critical in keeping your employees healthy on the job. Without sufficient cleanings, like vacuuming, dusting, mopping, or sanitizing, employees can quickly become sick and continue to get sick throughout the year. Dirt, dust, and allergens cause staff members to suffer at work with congestion, sneezing, itchy throat, and coughing, and if they're constantly interrupted by these symptoms, it can affect their work ethic.
Specialized & Professional Cleaning: Our team of experienced cleaners has all the necessary equipment to get your workspace clean and sparkling. Not to mention, our cleaners tackle areas that typically get missed by the untrained eye, which can cause a buildup of dirt and dust. Cleaning by yourself takes time and effort, impacting how you perform during the day. Take away the stress of cleaning for hours after work hours and reach out to the experts at We Clean It to save you time and effort.
High-Quality Sanitization & Cleaning: You'll want a professional cleaning company to properly clean your space. With the team at We Clean It, we pay special attention to detail and work efficiently to provide the cleanest workspace for everyone to flourish. We offer top-quality sanitization in all areas of your commercial property, such as the bathroom and kitchen. Stay healthy and safe with superior cleaning techniques from the professionals at We Clean It.
Commercial Cleaning Services We Offer
At We Clean It, we provide extensive cleaning services for those who want a healthy and productive environment. In addition, we offer specialized services for clients who are environmentally conscious or "green" companies. Regardless of your needs, we'll accommodate your request and take an expert approach to clean your area.
We offer the following commercial cleaning services:
HVAC Duct Cleaning
Carpet, Floor & Area Rug Cleaning
Drapery & Blinds
Washroom & Sink Cleaning
Windows & Doors
Furniture
Concrete & Natural Stones
Tile & Grouts
Lunchroom / Kitchen
And more!
Why Choose Us
We provide high-quality cleaning services to various commercial properties in Etobicoke and throughout the GTA at We Clean It. Our team creates a custom cleaning plan and schedule that fit your needs as a commercial property owner or manager. We accommodate time, date, and cleaning preferences, so you can always count on a clean environment regardless of your business hours or priorities. Forget spending hours cleaning after work and hire a professional commercial cleaning company to take care of the job for you at a cost-effective price.
Are you ready for your work environment to feel fresh and healthy?
Building a RFP for commercial cleaning services can be the best way to ensure you choose the right company that would add value and become an important part of your team!
1

Provide detailed scope of work

Provide details of services needed and for locations
Share requirements, i.e., service hours, cleaning days, consumables required etc.

Legal business name and years of experience
Types of business and clients served etc.

Request company profile from vendor

2

3

Provide additional requirements

List services that you might need on demand such as deep carpet cleaning, floor wax, area rugs cleaning etc.

Develop your company's evaluation criteria for decision-making, i.e., cost, experience, credentials, resources etc.

Develop an evaluation criteria

4

5

Invoicing and payments

Specify payment terms, billing and invoicing dates, payment channels, etc.