Your Guide to Medical Office Cleaning
Posted on 25 May 2023
Cleanliness and sanitation is an imperative feature of any medical office. Hiring professionals to perform your medical office cleaning in Mississauga will ensure everything is cleaned thoroughly and corners are not being cut. Commercial cleaning in Mississauga offers experienced and highly trained staff to focus solely on cleaning your medical office, as opposed to office cleaning being another task on one of your employee's list of things to do. This level of focus, priority and professional cleaning standard will increase your office's cleanliness. We Clean It offers best-in-class cleaning practices and has a long track record of ensuring customer satisfaction.
Read on for your guide to medical office cleaning.
Benefits of a Clean Medical Office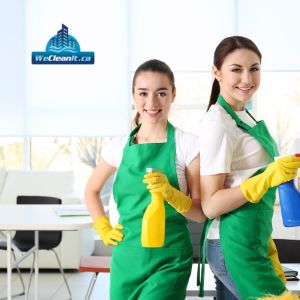 A clean medical office helps to increase trust between your patients and medical practice. Your medical office needs to be a nice clean place to work for your team and a comfortable place for your patients to receive care. Commercial cleaning in Mississauga ensures your medical office is in excellent condition and prevents the risk of bad reviews through word of mouth or online.
Retaining the services of commercial cleaners will ensure your medical office remains hygienic at all times and waste is correctly disposed of. Your medical office needs the right level of attention and cleaning care to prevent cross-contamination of illnesses and germs.
Benefits of Commercial Cleaning for a Medical Office
Commercial cleaning of your medical office offers a range of benefits. For instance, professional cleaners, like We Clean It, can accommodate flexible schedules and are able to provide cleaning services when the office is closed; this prevents any interference with your practice or any inconvenience to patients.
Professional cleaners are trained to adhere to cleaning standards and sanitization protocols; they will also possess high-powered cleaning equipment and tools to ensure the highest levels of sanitation and cleanliness. Professional cleaners may possess items such as a HEPA Vacuum which removes air pollutants, bacteria and literally everything and anything on the floors.
We Clean It offers eco-friendly cleaning products, most of which are made in-house. Using green cleaning practices and products helps to provide a healthier space for the medical office and the overall environment.
A thoroughly cleaned medical office using green products helps to reduce allergens, ensures a sterile environment and maintains a good impression with your patient community.
Green Cleaning
Green cleaners are bio-based cleaners that are still professional grade and are highly effective at cleaning. Green cleaners are non-toxic and biodegradable but still highly effective at cleaning. You'll be left with a spotless medical office while not causing harm to the environment.
We Clean It for Medical Office Cleaning
We Clean It can clean any size of medical office thoroughly. Our team excels at handling complex tasks and ensuring everything is cleaned to the highest standard. We are happy to customize cleaning services according to your needs. We have everything needed to clean and sanitize your medical office, so you don't need to provide, or worry about, anything.
We look forward to bringing your medical facility to the next level.