Office Cleaning Checklist For the Winter
Posted on 16 December 2020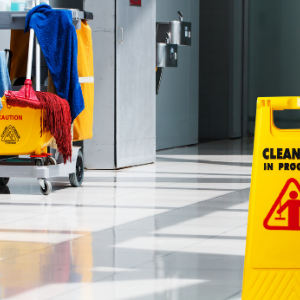 While cleanliness and workplace safety is always important, it's even more so in winter. Snow, dirt, and slush from outside get tracked indoors, especially in offices and commercial spaces. Apart from being a safety hazard, it also wreaks havoc on your floors and carpets. So how do you prioritize safety and cleanliness in the brutal winter months? The pros at We Clean It recommends the following winter cleaning checklist. And, if you have a packed schedule, hiring commercial cleaning services in Toronto will be the smartest investment you can make this winter!
Prepare the Entrance
It makes sense to be prepared for winter madness and the entrance mess with super absorbent doormats, wet floor signage, snow shovels, and proper storage for boots. Snow guards for the doors and salt for the walkway will also help check the ice.
Keep the Floors Clean & Dry
Office cleaning in Toronto is especially challenging due to the salt, slush and snow. You'll need to adjust your mopping techniques and solutions as salt can damage your floors and stain the carpets. Keep the salt at bay by using specialized neutralizing solutions in your mopping water. Increase the frequency of cleaning and mopping during snowy days to avoid accidents. Commercial cleaning services in Toronto can help you tackle this extra load in winter so that you can focus on your work!
Keep the Windows Shining
The dirt and grime on windows can keep out the sun and make your office cold and drab. Light up your workspace with natural sunlight by ensuring that the windows are clean and spotless. Commercial cleaning services in Toronto can clean the windows on a daily/weekly basis, taking time to clean both inside and outside.
Sanitize for Safety
Winter also brings with it the seasonal flu, coughs and colds. This has been compounded by the corona pandemic this year, making it vital to keep offices sanitized. Taking an extra effort to sanitize high touch surfaces like door handles, workstations, laptops, telephones and office equipment will help prevent the spread of allergens and viruses.
Check Air Quality
Cold winter air reduces humidity levels, and the heating inside makes it worse. This makes people with asthma, allergies and other respiratory conditions susceptible to infections and illnesses during winter. Taking care of your indoor air quality can help make your workspace healthier and comfortable. Using humidifiers and vacuums with a HEPA filter can keep germs and dust at bay. A comprehensive winter cleaning program can be undertaken with the help of any trustworthy commercial cleaning services in Toronto.
A clean office essays professionalism and is essential for workplace safety & productivity. Use this winter checklist to make cleaning a breeze! If winter cleaning is too time-consuming for you, consider investing in premium commercial cleaning services in Toronto like We Clean It. As the front-runners in commercial cleaning across the GTA, our professionally trained and certified cleaning crew will ensure a spic and span office this winter!
Dial 647-999-6898 or visit www.wecleanit.ca to know more about our special winter cleaning services and professional office cleaning in Toronto. We'd love to hear from you!