Why Your Retail Store Requires a Professional Cleaning Service
Posted on 17 May 2021
Traffic in stores fluctuates. Even if your employees are mopping, wiping down surfaces, and disinfecting, how can you be sure that everything is getting clean adequately? Your employees are trained for customer service, check out, stocking, and service-related tasks, but commercial cleaning should be left to the professionals to ensure it's done effectively and keep your team and customers as safe as possible. At We Clean It, we understand the importance of providing a retail environment that is safe and clean for customers and staff alike. That's why we offer specialized commercial cleaning services in Toronto for retail stores.
Consider these reasons why you might need a professional cleaning service for your retail store.
A Welcoming Environment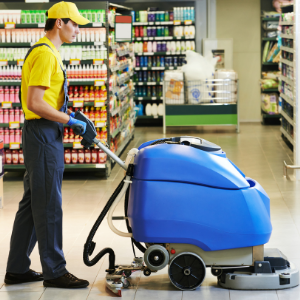 A clean, tidy, and presentable store is more inviting to customers and will encourage their return in the future. A study conducted by the NACS found that customers are more likely not to make a purchase at a retail store if they don't find the atmosphere clean. Commercial cleaning services in Toronto will allow you to effortlessly maintain the cleanliness of your store so that it is more inviting to customers and comfortable for employees.
Safety
With the COVID-19 pandemic still on everyone's minds, the importance of a clean and hygienic space has never been more important. At We Clean it, enlisting our regular commercial cleaning for your store will eliminate bacteria, viruses, and contaminants lingering around the stores on fixtures, fitting rooms, merchandise and other high touchpoints.
Mitigate Risk
Taking on the cleaning of a retail store yourself can open your establishment to potential danger. It sounds far-fetched, but between specialized chemicals, heavy-duty equipment, and slippery surfaces, there's a lot of room for someone untrained to get hurt. Chemical burns and broken bones are just a couple of potential hazards. At We Clean It, our professionals are trained to manage cleaning safely to protect everyone around.
Save Time and Money
When you hire a professional cleaning service for routine cleaning around your store, your employees will be able to spend more of their time and energy on taking care of customers and managing products. This will help keep your team happy and eliminate unnecessary tasks. This allows your team to handle more tasks to generate revenue without increasing spending on hours or hiring more employees.
Specialization
A comprehensive clean is not as simple as a broom and a mop. We know that a retail cleaning service must be approached differently than office cleaning in Toronto. So, at We Clean It, we assess your space and create a custom cleaning plan that is best suited for your store. We tailor strategies to suit restrooms, employee areas, and stock rooms in addition to your storefront in order to ensure the best possible clean.
At We Clean It, we are a team of industry professionals committed to providing a quality service with quality results. Contact us for all your commercial cleaning needs from retail stores, medical buildings, and office cleaning in Toronto.
Call Us Today at 647-999-6898 for Your Free Quote or Send Us A Message.