Why Your Business Needs a Commercial Cleaning Company
Posted on 26 April 2023
An office or commercial building can never be too clean. Having a thoroughly clean space helps both your business and your employees. When looking for a company that offers services for commercial cleaning in Mississauga, make sure they are experienced and have a range of cleaning services to offer. That way, when you want the carpets or drapes washed, you can work with the same company instead of using up time and resources to locate a different commercial cleaning company for each item your business will need throughout the year. We Clean It offers an extensive range of commercial cleaning services for clients.
About Janitorial Services Mississauga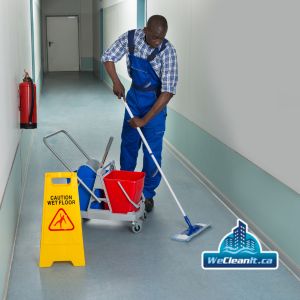 When you first consider what needs to be cleaned in your company, you'll likely think it's only the vacuuming, floor washing and wiping counters. But the reality is that you would quickly recognize that would be sub-standard. You would immediately recognize you need someone to fill up the washroom soap dispensers and someone else to clean the lunchroom, and so many more areas need attention. Commercial cleaning services can't be an afterthought or something that can be added to a regular employee's tasks; it's an extensive job on it's own. Once you acquire janitorial services for your company, you will acquire the experience and skills to take care of everything you need, all of the items you realize need to be handled, and all of the items you still need to consider.
Full Suite of Cleaning Services
Individuals are busy and caught up with running the duties of their company; they only realize something needs maintenance or cleaning once it's already gotten quite dirty. Hiring a commercial cleaning company with extensive services like We Clean It ensures you don't need to shop around and waste time looking for services when required.
When you begin looking for a commercial cleaning service in Mississauga, ensure they offer everything you might need now and in the future. Whether it's washing the drapes, HVAC duct cleaning, or even washing your windows, as long as one company offers all of these services, you have a solid partner for all your commercial cleaning needs.
The Convenience of a Commercial Cleaning Company
Convenience is one of the most significant benefits of dealing with a commercial cleaning company. They have high-quality, specialized cleaning equipment and supplies, so you don't need to waste time buying or storing them. They supply all of the trained staff to do the specific cleaning tasks effectively and likely more efficiently than if it were done in-house. Finally, an excellent commercial cleaning company can focus on all the details so you don't have to worry about anything.
We Clean It Offers Commercial Cleaning Services in Mississauga
We Clean It has an experienced and skilled team that will handle the finest cleaning details for your company. We use professional-grade and eco-friendly cleaning materials. We also have specialized equipment for specific cleaning tasks to ensure the most thorough cleaning possible of your company.