Why Invest in Green Commercial Office Cleaning
Posted on 15 May 2023
With the state of the environment and the severe impact of climate change, green practices are top of mind for businesses and consumers alike. Companies are realizing that going green is not only the responsible thing to do, but consumers are selecting to support businesses aligned with their values and beliefs. More and more businesses desire a commercial cleaning company that strives to keep employees healthy and help the environment through their office cleaning services. We Clean It is proud to work exclusively with green cleaning products and services to ensure our clients get the best quality service.
Read on to learn why investing in green office cleaning is worth it.
What is Green Cleaning?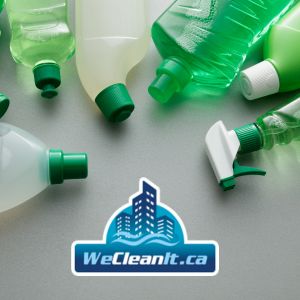 Green cleaning refers to using environmentally friendly cleaning products and practices. Often, when a cleaning product is good for the environment, it's also good for human health. Green cleaning is non-toxic and does not release pollutants; both are great reasons to have your business adopt green cleaning practices. We Clean It is a commercial cleaning company that is conscious of working with green cleaning products. We make many of our cleaning products in-house, and all of our products are 100% biodegradable.
Increase Productivity at Work
When employers use green corporate office cleaning services, they notice a healthier and more productive workforce. Using bio-based products that are non-toxic keeps your team healthy and prevents them from getting sick.
When the team is aware that their employer is using green practices to keep their work environment green and clean, it will be welcomed and appreciated by your employees, and this will be followed by a boost in morale. No one wants to work in an unclean or toxic environment. Boosts in employee morale usually increase productivity.
Responsible Corporate Office Cleaning
Many cleaning products and containers for cleaners can end up in landfills, so seeking more sustainable options is a target for many businesses. When a company offers green corporate office cleaning services, you know their practices and products are mindful of the environment. It is important to note that businesses don't need to sacrifice the quality of cleaning to be green. Green products are still professional grade and highly effective at thoroughly cleaning a business or office space, providing pristine results.
We Clean It is Committed Green Cleaning
At We Clean It, we are committed to using products that do not contain chemicals that deplete the ozone. We have committed to providing our clients with professional-grade cleaning products that are mostly made in-house and 100% non-toxic. We also employ environmentally friendly cleaning practices whenever it is possible to do so. The We Clean It team has created a legacy of providing reliable service, high-quality work and excellent results while not compromising our commitment to green cleaning.
We provide comprehensive cleaning services and can be customized according to your business or office's needs. We Clean It knows that each business operates differently, so we make sure to offer flexible scheduling options along with competitive pricing.