Why Hire a 3rd Party Cleaning Service over In-House Cleaning Team?
Posted on 21 September 2022
A clean and healthy work environment is crucial for a successful and progressive business. Organized, sanitary, and welcoming office spaces keep employees motivated and productive. Companies can opt for an in-house cleaning team or professional janitorial services in Toronto, Etobicoke, and North York to keep on top of cleaning your office. Outsourcing your office cleaning in Toronto has some clear advantages, and here's why you should hire a 3rd party cleaning service.
High-Tech Equipment & Supplies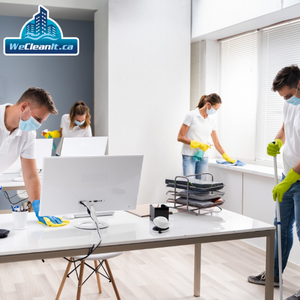 Professional janitorial services in Toronto understand that office cleaning in Toronto needs more than a regular vacuum, mop, or broom. They invest in cutting-edge cleaning equipment and the latest environment-friendly cleaning practices and products. Cleaning services have the expertise to create custom cleaning practices and policies to ensure highly sanitized and healthy workspaces. Their experience and professionalism are difficult to achieve in-house.
Flexible Scheduling
Another advantage of hiring professionals for office cleaning in Toronto is flexibility. Typically, an in-house cleaning team will work during the same hours as the rest of the office staff. This can affect the level of cleaning achieved. However, you can ask a commercial cleaning company to come in after work hours or other optimal times. A 3rd party cleaning service will work hard to keep your business—they will accommodate the cleaning schedule according to your preferences. Whether you want to increase or decrease cleaning time, add more support during peak times, or schedule deep/exterior cleaning, professional janitorial services in Toronto will work to meet your specific cleaning needs.
Cost Efficiency
Outsourcing office cleaning services can be really cost-effective. You can save money by eliminating:
Recruiting Costs: No screening or recruiting costs as you just appoint one janitorial company to tackle all cleaning needs.
Training & Managerial Costs: No need to train or supervise an in-house crew. The contract crew will be trained and managed by the cleaning contractor.
Recurring Employee Expenses: Outsourcing cleaning services do away with extra employee costs in terms of health care, benefits expenses, employee verification, and other associated costs.
Cleaning Equipment & Supplies: There's an immediate cost saving on supplies and equipment as a commercial company can procure them at an optimal cost (wholesale bulk prices).
Running Costs: If you don't require constant cleaning, you don't have to pay for cleaning teams on staff. Janitorial cleaning services can be called when you need them.
Freedom from Organization & Inventory
With a janitorial cleaning service like We Clean It, the crew will keep track of all the cleaning supplies and stock. The cleaning company will be responsible for organizing and managing inventory, leaving you free to focus on what matters. An in-house cleaning team requires supervision, training, and coverage for staff call-outs. All this is taken off your plate with a 3rd party cleaning contractor. You have the freedom to concentrate on what matters—running your business.
Leave Your Cleaning Worries to the Team at We Clean It
Outsourcing office cleanup in Toronto to professional office cleaning companies will reduce stress and improve your cleaning standards and productivity. With unmatched janitorial services in Toronto from We Clean It, you can be confident of a comprehensive clean. We excel in providing and maintaining clean, safe, and healthy workplaces for all types of businesses, commercial buildings, and industrial facilities.
Connect with us for custom janitorial services tailored to your business & budget today!