Why Floorcare is Important For Your Business
Posted on 19 July 2023
In the bustling business world, every detail matters. From the moment clients step into your office, they begin to form impressions that can make or break a deal. And floor care and office cleaning in Mississauga is a small yet crucial aspect that can significantly impact your business operations. Cleanliness extends far beyond mere tidiness––your floors reflect your business, vision, and image. Spotless floors are an expectation and essential for a positive business impression. Ensure a sparkling office space by partnering with a professional commercial cleaning company like We Clean It. Read on to delve into commercial cleaning and learn how focussed floor care can elevate your business.
Types of Floor Cleaning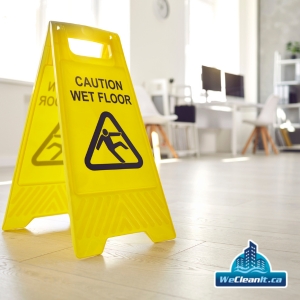 Commercial spaces encompass a wide range of flooring surfaces, and each requires specialized care. From industrial epoxy floors in manufacturing facilities to sturdy school floors or polished retail & office floors—every floor type requires meticulous care. And let's not forget the medical buildings, where carpet, tile, and hardwood floors require clinical precision. This is where partnering with a commercial cleaning company that understands the unique requirements of each floor type becomes invaluable.
Benefits of Floor Care during Office Cleaning in Mississauga
Clean floors are a direct reflection of your commitment to excellence. Focussed floorcare during office cleaning in Mississauga brings a multitude of benefits:
Ensures Longevity of Your Flooring: Neglecting your floors can result in premature wear and tear, requiring costly replacements. A comprehensive cleaning routine with specialized floor care solutions can extend the lifespan of your flooring.
Daily cleaning of high-traffic areas maintains your flooring and prevents injury risks and unprofessional appearance.
Lingering dirt can damage carpet fibres and wear out hard flooring, compromising indoor air quality. Focussed floor and carpet care will ensure their resilience in the face of daily demands.
Efficient commercial cleaning companies like We Clean It understand the necessity of prompt spot cleaning to address spills and protect your precious floors from permanent damage and staining.
Enhanced Safety: Floor care is not just about appearances; it also plays a vital role in maintaining a safe working environment. Slippery or wet floors, food spills, and unkempt floors are behind most workplace accidents. It impacts your employees and customers and can lead to costly lawsuits. We Clean It's floorcare experts ascribe to green cleaning and use advanced cleaning techniques & non-toxic products to ensure clean, dry, and slip-resistant floors. Routine floor care reduces the risk of accidents and creates a secure office space.
Superior Air Quality & Healthy Employees: Clean floors contribute to improved indoor air quality, and a healthy office environment. Dust, seasonal allergens, and indoor pollutants tend to accumulate on neglected floors. This can compromise the well-being of your employees, resulting in more sick days and reduced productivity. The experienced and trained staff of commercial cleaning companies employ state-of-the-art floor cleaning equipment to effectively remove contaminants. Investing in regular floor care improves indoor air quality and prioritizes employee health, with fewer sick days and a happier workforce.
Save Resources: Consistent floor care during office cleaning in Mississauga can save resources, time, and money. Regular floor cleaning can identify and address issues like cracks and stains promptly. You save time, re-flooring expenses, and potential legal troubles. Floor maintenance extends the flooring lifespan, reducing the need for costly replacements. Businesses can contribute to a sustainable practice by avoiding wasteful disposal of resources.
Enhance Business Operations with We Clean It
At We Clean It, we understand that office cleaning in Mississauga is not just a chore—it's your commitment to excellence. Our holistic cleaning solutions include meticulous floor care for unparalleled cleanliness that exudes professionalism. With over 20 years of cleaning expertise, you can trust We Clean It for a pristine office space that leaves a lasting impression on clients and employees. Call now and let your floors and business shine with brilliance!