Why Dust Control is Important for Office Cleaning
Posted on 24 November 2022
Dust control is critical to protect the health and safety of your staff while keeping your environment as clean as possible. Offices can become extraordinarily dusty and congested, so office cleaning in Toronto is needed to mitigate dust particles from building up and collecting on surfaces. Every workplace should have commercial cleaning service for dust control, but it's essential for industrial or commercial buildings that work directly with heavy dust and particles. At We Clean It, we know the importance of removing dust from a workplace to promote enhanced productivity, reduced sick days, and improved focus.
Continue reading to learn why dust control is vital in the workplace.
Health & Safety of Employees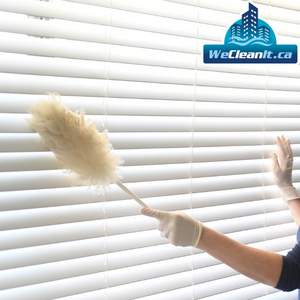 If you own or manage a company, the health and safety of your employees should always be your number one priority. Whether you work in an office, industrial building, education facility, or retail store, dust control services should be implemented into your regular cleaning plan. The health of your employees is mainly dependent on the size of dust particles in your work environment. Dust may contain substances like liquid droplets or microscopic solids that are miniature enough to enter deep into your lungs, leading to serious health issues like lung diseases or effects on the heart.
According to the Canada Occupational Health and Safety Regulations, all janitorial work that may cause dusty or unsanitary working conditions should be carried out in a manner that prevents the contamination of the air by dust that is injurious to health. This means that high dust levels should raise a concern and be appropriately handled by the workplace. Lingering dust promotes harmful allergens and pathogens inside the workplace, which can cause allergic reactions and illnesses. To keep your employees healthy and safe, reach out to We Clean It for superior janitorial or office cleanings in Toronto.
Workplace Productivity & Focus
Working in a dusty or messy environment can drastically reduce productivity and focus. The physical environment of your workplace has a significant impact on the way employees work. So, if dirt, mess, clutter, or dust are present in your workplace and you notice a pattern of employees who lose productivity and focus often, it's best to contact a reliable company that offers commercial cleaning services like We Clean It. The experts at We Clean It provides daily, weekly, and monthly cleaning services based on your preferences. Our team of dedicated professionals has years of experience, top-quality equipment, and eco-friendly cleaning practices and products, so we can always guarantee superior dust control cleaning services.
Reduced Sick Days
Dust may not seem serious, but it can cause severe issues like irritation in your airways, wheezing, coughing, and trouble breathing. If you notice that several employees are constantly calling in sick, it could be due to the dust in your indoor environment. Dust also causes poor air quality, leading to numerous health issues. Adequate ventilation and air filtration are crucial to reducing sick days and keeping the workspace clean, fresh, and dust-free. With We Clean It's high-quality services, you can improve your air quality in no time.
Expert Commercial Cleaning in Toronto
Do you want to improve your workplace's environment to ensure your employees' health, safety, and attendance? Get your office or industrial building sanitized, clean, and free of harmful dust particles by contacting a professional cleaning company in Toronto.