Why Commercial Cleaning Services Are Important for Your Business
Posted on 22 March 2022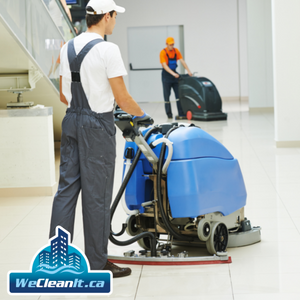 No one enjoys coming to a dirty office, and unfortunately, a lot of businesses don't take the time to clean their premises as often as they should. This can lead to a number of problems, including decreased employee productivity, increased staff absenteeism, and a negative image for your company. That's why it's important to invest in a good commercial office cleaning service. Commercial cleaning services for businesses can help keep your office clean and healthy, and they can also help improve your staff productivity and morale. If you're looking for good corporate cleaning services, be sure to do your research. Make sure the company you choose has a good reputation and offers high-quality cleaning services for businesses, such as We Clean It.
Why Cleaning Services For Businesses Are Important
Commercial corporate cleaning services are important for your business for a variety of reasons. Not only do they keep your workplace looking clean and professional, but they also help to ensure that your employees are healthy and productive. In order to keep your business running smoothly, it is important to have a regular cleaning schedule in place. A professional cleaning crew can help to maintain your workplace by dusting, sweeping, and vacuuming all of the surfaces and floors. They can also clean the bathrooms and kitchens, and take care of any other special requests that you may have.
It is also important to consider the health of your employees. A clean workplace is a healthy workplace, and employees are less likely to get sick if they are working in a sanitary environment. Commercial cleaning services for businesses can help to reduce the amount of dust and dirt in the air, and they can also help to keep the floors and surfaces clean.
Top Reasons To Hire Corporate Cleaning Services
Improved Creativity
Improved Productivity
Commercial cleaning can play an important role in maintaining a healthy and productive workplace. Not only does it help keep the space clean and organized, but it can also help improve creativity in the workplace.
According to a study by the University of Utah, people are more creative when they're in a clean and organized environment. In fact, the study found that people were up to 50% more creative when working in a clean environment. This is because a clean and organized space helps reduce distractions and allows people to focus on their work.
Commercial cleaning can help create a clean and productive work environment, which can lead to improved creativity and productivity. If you're looking for a commercial cleaning company that can help improve your workplace, contact We Clean It. We offer a wide range of commercial cleaning services that can meet your needs.
Hire the Best Corporate Cleaning Services
We Clean It understands that every business is different and has different cleaning needs. That's why we offer a range of commercial cleaning services for businesses that can be tailored to meet the specific needs of your workplace. Whether you need regular maintenance or a deep clean, we can work with you to create a cleaning schedule that fits your needs and your budget.
Our team of experienced and professional cleaners will work diligently to ensure that your workplace is clean and tidy, and that interruptions to your normal operations are kept to a minimum. We understand the importance of keeping your business running smoothly, and we are dedicated to providing you with the best possible service.
If you're looking for a reliable and affordable corporate cleaning service, contact We Clean It today. We'll be happy to discuss your needs and create a custom cleaning solution that's perfect for your business.