Why Commercial Cleaning is Essential for Office Boardrooms
Posted on 10 July 2023
First impressions can make a big difference in the business world. Office boardrooms are a vital space in offices for important meetings, decision-making and interviews within companies. Maintaining cleanliness and organization in the office environment is of utmost importance, particularly in the boardroom. This boardroom is the focal point of building relationships and decision making, so a clean and organized boardroom plays a crucial role in creating a professional atmosphere and fostering productivity. Hire a team for office cleaning in Toronto to do the job; we Clean It can help with that. We are a highly-qualified team who provides you with the best customer service possible through commercial cleaning in Toronto.
Read on to learn more about the importance of a clean office boardroom.
Health and Hygiene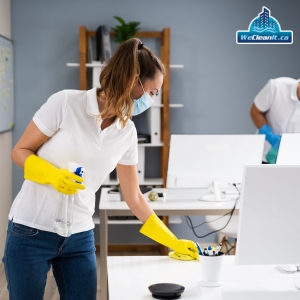 Everyone reacts differently in terms of allergies and illnesses. The collection of dust is a common trigger of allergies that include stuffy nose, sneezing, and coughing. This can make visitors and stakeholders uncomfortable, while also causing audible disruptions to your agenda.
With commercial cleaning, the lack of dust eliminates the constant interruptions of the symptoms, which are not very appealing in a professional setting. All these symptoms produce bacteria that can spread in the workplace. By implementing regular cleaning practices, the entire office space can be freed from dust and bacteria. It is important to remember that dust accumulates in less frequently used areas such as baseboards and room corners. Since boardrooms typically experience lower usage, they are susceptible to dust buildup. As boardrooms are not frequently used, the room itself can collect dust, so when it is time for a meeting, it's not very impressive to find a collection of dust on the surfaces.
Professional Image
Boardrooms are typically where you have meetings with outside parties of your company. Whether it's an interview or a meeting with an investor, presenting as professionally as possible is crucial. From a clean boardroom, they can determine the type of company you are. Cleanliness can show that you are organized, professional and trustworthy. This factor can help build relationships, grow trust, and make you seem reputable.
Enhance Productivity
A dirty or messy workplace can distract your employees from doing their work. The thought that their workspace is dirty can deter them from the task or topic at hand during a meeting. Creating a clean workspace provides a clear mind for employees to optimize their creativity, putting them in a positive mind state and can increase individual organization.
Distracting Odours
Boardrooms are typically a space that holds meetings, which can sometimes run long. With that, employees typically bring their coffee into the meetings, or drinks are provided in the room. Those drinks are prone to spills or creating a mess. Cleaning services can help remove them promptly, so the next time you enter that boardroom, it's good as new. By doing so, you won't need to worry about bugs or rancid smells.
We Clean It for Office Cleaning in Toronto
Booking a cleaning service to clean your office space can be highly beneficial, allowing you to focus more on the success of your business. We Clean It can provide any cleaning service for any area, including offices, retail stores and schools. With advanced technology and environmentally-conscious products, we will make your space the cleanest you have ever seen.