Why Choose A Green Office Cleaning Service in Toronto?
Posted on 08 June 2021
Proper cleaning is now more apparent than ever. As a society, we understand how vital a hygienic and sanitized environment is to the health of our business, employees, and customers. To achieve a noticeable clean, commercial cleaning services in Toronto often rely on harsh chemicals to destroy bacteria and leave a sparkling shine. While there is still some hesitancy towards green cleaning practices, eco-friendly products and practices are gaining popularity and for a good reason.
If you're looking for office cleaning services in Toronto, here's why you should choose a company that engages in green practices.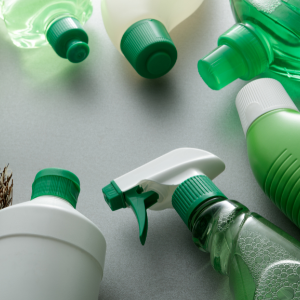 Indoor Pollutants
Indoor air pollution is a growing problem, there are few common contributors to poor indoor air quality, and cleaning products are one of them. Harsh cleaning products like bleach and spray cleaners contribute to indoor air pollution. These chemicals are sources of volatile organic compounds (VOCs), and they can be toxic when released into the air. Because VOCs typically evaporate at room temperature, they are easy to inhale when used.
VOCs impact air quality by releasing toxins into the air. This adversely affects the health of people who use that space. Indoor pollutants can trigger coughing, sore throats, headaches, asthma, itchy eyes, colds, and even bronchitis. These health effects at any scale can negatively impact morale, employee satisfaction, and productivity in the workplace. However, when you opt for cleaning services in Toronto that leverage eco-friendly cleaning supplies, like We Clean It, you can improve your employee experience.
Toxins
Some standard cleaning products used by office cleaning services in Toronto may contain harmful chemicals like formaldehyde, phthalates, and toluene. When products with these chemicals are used during cleaning in your office or workplace, your staff can contact them, causing skin or eye irritation, even asthma attacks. These chemicals can be carcinogenic and harmful to reproductive organs, but these effects are still being studied. It's better to be safe than sorry when it comes to cleaning services in Toronto. You can get the clean you need with green products at We Clean It.
Reputation & Sales
When you choose eco-friendly office cleaning services in Toronto for your business. You can share your environmentally conscious practices with your customers and employees, improving your business's reputation and even boosting sales. Studies show that customers want to do business with companies that engage in sustainable practices. When you make an effort to be environmentally friendly, brand loyalty and employee retention both increase. According to the Harvard Business Review, corporate responsibility practices can boost sales revenue by 20%. When you choose We Clean It, we always opt for green practices where applicable.
At We Clean It, we provide comprehensive commercial and office cleaning services in Toronto using green products whenever possible. We understand the value of caring for our environment and your workspace. Our eco-friendly cleaning practices provide the same level of hygiene and sanitation as conventional cleaning services while minimizing the harm to your team and the environment,
Contact us today to book our eco-friendly cleaning services for your commercial space today!