What's Included in Deep Cleanings for Offices in Toronto
Posted on 10 November 2022
A clean, organized, and healthy work environment is essential for any business and the health and safety of your guests, staff, and clients. Regardless of the nature of your business, regular office cleanings in Toronto are highly encouraged to maintain a safe workplace where everyone can thrive. Dirty and unkempt office spaces leave negative impressions on current and future clients, allowing them to make a decision on your business based on the visual state. To ensure that your office is up to par, office cleaning companies recommend scheduling deep cleaning services to effectively remove dirt, grime, and bacteria. At We Clean It, one of Toronto's leading corporate cleaning companies, we offer high-quality, flexible scheduling and affordable office cleaning services.
What Is Deep Cleaning?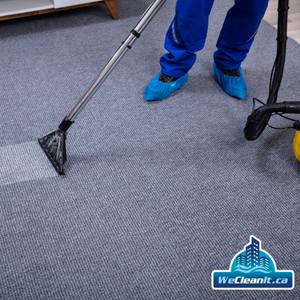 Deep cleaning is the process of cleaning beyond the visible state of dirt and disinfecting mold, dust, allergens, grime, and germs that build on surfaces or hard-to-reach areas in your office. Typically, deep cleaning focuses on the high-traffic areas that are constantly walked over or touched, such as floors, carpets, rugs, and office desks. The process involves the physical removal of dirt from surfaces, then disinfectants to kill germs and bacteria.
Why Is Deep Cleaning Important For Offices?
Cleaning your business daily is vital so that dust particles, trash, and desks don't accumulate with dust, dirt, and germs. In addition, scheduling weekly or monthly deep cleaning services in Toronto significantly helps control the spread of viruses and infections in your building. Not only do deep cleaning services provide a safe environment with good air quality, but it drastically aids in employee productivity, satisfaction, and morale. Clean workspaces help motivate employees, making them feel happier and perform better at their jobs. Without a clean environment to work in, you may get sick often, feel fatigued at work, and it can be challenging to focus on tasks. At We Clean It, you can count on us to provide top-quality deep cleaning services for your business, opting for an organized and bacteria-free environment.
Checklist: Office Cleanings in Toronto
How often deep cleanings need to be performed is based on your type of business, high areas of traffic, and season. At We Clean It, we offer daily, weekly, and monthly office cleanings in Toronto.
Weekly Deep Cleaning Services Include:
Clean & wipe down all technology and equipment
Clean & sanitize workspaces
Vacuum & polish floors
Steam clean high-traffic carpet & rug areas
Maintain & spot check windows & glass
Detail clean lunchroom, lounge, fridge, counters, etc
Empty interior and exterior waste bins
Spot-check areas for stains & debris
Restock facilities (toilet paper, soap, paper towel, etc.)
Why Hire Professional Office Cleaning Companies?
Professional office cleaning companies highly recommend scheduling weekly deep cleaning services to protect the health and safety of your clients, visitors, and employees. At We Clean It, we know how important it is to have a tidy workplace. Our team of professional cleaners has years of experience in deep cleaning office spaces in Toronto, so you can trust that we'll get the job done beyond your expectations.
Are you ready to walk into a clean and sanitized office space daily?