What Services are Included in Office Cleaning?
Posted on 26 July 2022
Commercial cleaning in Toronto is part of what makes your business whole. With a clean atmosphere and healthy environment, you leave a good impression on your visitors, staff, and property in general. A clean space allows for better concentration and productivity, a win-win for employees and employers. It's never been easier to boost your company's overall presence with office cleaning companies in Toronto. The professionals at We Clean It go above and beyond to make your place look great.
Read on to find out what services are included in an office cleaning.
Why Should I Get My Office Cleaned?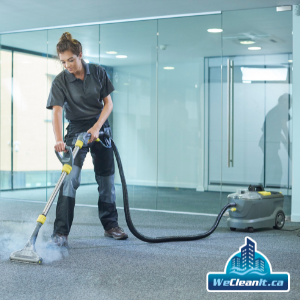 The quality of your business should be reflected in the look and feel of your office. If your workplace is dirty, there is a chance it can contribute to a high employee turnover rate and low customer engagement. When your office doesn't meet the same standards as your business, it looks unprofessional and can make customers look the other way. A clean workspace is essential, especially if you want to drive more people to your workplace. Start with a clean workspace, and all else will follow.
Your staff should be able to work in a clean and tidy environment that permits better air quality - free from mold, allergens, dust, dirt, and contaminants. When employees are presented with a clean, sanitized environment, they can perform better while staying safe. The experts at We Clean It can make your workplace squeaky clean with regular commercial cleaning in Toronto.
What's Included In A Commercial Office Cleaning?
One of the most common questions from employers is what is included in a commercial office cleaning. Many office cleaning companies in Toronto provide basic cleaning, including vacuuming and mopping. At We Clean It, we offer extensive cleaning so you can walk into an organized, sanitized, and healthy environment every day. Our daily cleaning and maintenance duties include vacuuming and sweeping all busy areas (carpets, floors). We then clean and sanitize all washroom floors and surfaces and remove interior and exterior garbage bins. In addition, we restock the facilities with toilet paper, paper towels and soaps. While doing this, our team of professionals is constantly spot-checking for major stains and debris.
We also offer weekly services that include cleaning and wiping down all office equipment and technology, including keyboards, computers, and phones. This is followed by sanitizing and cleaning desks, tables, and other working surfaces. We finish by polishing and steam cleaning the high-traffic areas and a detailed clean of the lunch room and lounges. The team also maintains and spot-checks all the glass and entryways.
Choose We Clean It For Your Office
Our team at We Clean It accommodates all businesses with cleaning options nightly, weekly, biweekly, and monthly, so you can schedule your cleanings based on your needs. With attention to detail, you can count on our team to do a complete cleaning that will leave you beyond satisfied. We know you genuinely care about your business, and so do we.
Our mission is to provide the best cleaning services so you can do what you love in a clean environment.