What Affects Professional Commercial Cleaning Costs Toronto
Posted on 05 May 2023
Nothing is better than walking into a sparkling clean office for work or consumer activities. On the other hand, there may be nothing worse than walking into a dirty office or commercial business. Unclean places of business are off-putting for both employees and clients. Professional commercial cleaning in Toronto provides your office or business with high-quality, in-depth cleaning that improves work conditions for employees and allure for prospective customers. Professional office cleaning in Toronto from an experience team enables a higher level of cleaning, saving your staff time so they can focus on their core tasks without worrying about cleaning duties. At We Clean It, we are committed to providing high-quality commercial or office cleaning in Toronto that enhances your operations at transparent and cost-effective pricing.
Read on to explore the factors that affect the cost of commercial cleaning in Toronto.
Type of Office Cleaning Services Needed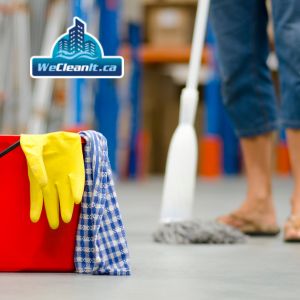 Depending on the nature of your office, or the seasonality of your business, the type of janitorial services you will need may vary. While some janitorial services in Toronto are needed in virtually all spaces, other's are needed based on the time of year or the happenings of your office. At We Clean It, we offer event clean up services, regular office cleaning in Toronto, facility cleaning, and janitorial services.
One-time office cleaning services are scheduled on an ad hoc basis, so businesses can determine when they're most in need of a deep clean. Janitorial services, on the other hand, is a regular cleaning service, where cleaners visit on a regular scheduled basis to address anything from floor cleaning and garbage removal to carpet cleaning and more.
Ad Hoc Services available for office and commercial environments at We Clean It include event cleanup, film set cleanup, post-construction cleanup, and more. To determine the cost for these commercial cleaning services, contact We Clean It for a quote.
Types of Commercial Facility
The type of business you run will essentially dictate the type of cleaning service you need and the level of cleaning you require.The more involved and complicated a cleaning project is the more it will generally cost.
The materials within your commercial facility will impact what tools, products and cleaning activities are required. For instance, warehouses and manufacturing facilities will have epoxy floors which will require in depth cleaning and washing compared to an office which is generally carpeted and can be cleaned effectively with a high-powered vacuum.
Different types of facilities will have different cleaning needs to be addressed. Larger commercial properties may have greater foot traffic, dust production or may have complex operations that demand involved cleaning which would impact cost.
Size will also impact the cost of commercial cleaning services. Cleaning a multi-unit building with multiple offices will cost considerably more than a single commercial space with a few offices. Office cleaning in Toronto will also require less extensive services than cleaning a medical facility or factory.
Warehouses and industrial centers will require expert cleaning approaches and often will be larger in size, needing more time, staff, and cleaning resources and will likely cost more.
We Clean It offers a full range of tools, provides strategic cleaning plans based on your needs and offers extensive experience across a range of different businesses. You can trust us to get the job done to your complete satisfaction.
Frequency of Commercial Cleaning Toronto
Commercial cleaning in Toronto can be offered as daily janitorial services or offered as weekly or monthly cleanings. The increased frequency of the cleaning service will generally increase the cost.
It is not uncommon for businesses to opt for regular basic cleaning services along with regular intermittent deep cleaning cycles.
Ultimately, each business will have its own needs and level of cleaning. We Clean It works with a variety of different kinds of budgets and an array of different businesses. From schools to medical offices to large warehouses, the cleaning needs and scope of work will vary greatly and influence the cost of service.
We Clean It for Commercial Cleaning Company in Toronto
We Clean It has been cleaning businesses and offices in Toronto for over 20 years. We have built a reputation of trustworthiness and reliability as we ensure that each one of our clients is pleased with our service. We are proud that we ascribe to green cleaning and use all biodegradable and non-toxic cleaning products that keep you and your team safe. Our management and supervisors are trained in WHMIS and practice safe cleaning practices.