We Clean It: Trusted Office Cleaning Services In Toronto
Posted on 18 March 2021
When it comes to the cleanliness of your office or business, you simply cannot compromise. That is why you need a trusted commercial cleaning service in Toronto to take care of all your cleaning needs. With more than 20 years in the industry, We Clean It has become a trusted name across Toronto & the GTA. Serving as the cleaning backbone of hundreds of business houses, medical offices, industrial facilities, government & educational institutions, we are committed to providing quality commercial & office cleaning services in Toronto. Outsourcing your cleaning requirements is also a smart business move, freeing up your time and resources to focus on what you need to—your business! No hassles of interviewing, hiring, training, staffing, or overseeing janitorial employees, We Clean It has you covered!
Our Commitment to Customers
Total customer satisfaction is not just a slogan for us—our committed cleaning crew takes pride in the integrity and quality of their work, for every customer, every day. Cleaning solutions & service with a smile is what the We Clean It team promises you! With an environment of mutual respect, trust, and pride in work, our winning team is synergized to be the best, and scale greater heights of customer satisfaction. Indeed, customer delight is what we strive for, keeping an ear to the ground and listening to you, our valued customers. 360-degree feedback, quality control checks, and immediate response to your concerns & needs help us to meet and exceed your expectations! After all, our success is not defined by the industry but by you, our valued patrons!
Our Commitment to Quality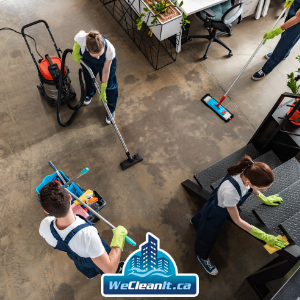 Our commitment to providing the highest standards of cleaning services & solutions drives us to raise the bar—consistently. We are dedicated to delivering sparkling clean and healthy workplaces, adhering to the strictest cleaning programs and quality control. The first indication of quality is cleanliness, and we ensure that your premises leave a lasting impression on clients. Our competent cleaning crew is certified, trained, and qualified to bring you the best disinfection and office cleaning services in Toronto. We not only follow premier industry standards but also invest in cutting-edge cleaning technologies for top-tier customized cleaning services. Our superior cleaning standards, dedicated customer support and proactive quality control through regular quality checks make us the front runners amongst all commercial cleaning services in Toronto. What sets us apart? We never stop learning, improving, and innovating!
Commitment to Our Green Promise
Our cleaning services come with our 'green' promise—a combination of green cleaning guidelines & established eco-standards. We aim for a greener future, and our commitment to sustainable cleaning solutions is reflected in our efforts to diminish waste, re-cycle, and use 'green' cleaning products. Our green promise ensures enhanced air-quality and safer workspaces for you! Team We Clean It makes conscious decisions to only use non-toxic, bio-based cleaning products with reduced packaging. Our cleaning products are professional-grade, high performance, and 100% biodegradable—which means they are completely safe for you, your employees and the environment!
We Clean It: Commercial Cleaning Services You Can Trust!
Proudly serving Toronto & the GTA for more than 20 years, you know you can count on team We Clean It ! Our world-class cleaning crew is committed to providing top-of-the-line cleaning solutions customized for every budget! Call us on 647-999-6898 for a free cleaning estimate today!