Understanding the Relationship Between Corporate Cleaning Services and Building Maintenance
Posted on 24 January 2022
Both commercial cleaning services in Toronto and building maintenance services work to maintain office environments. In some cases responsibilities overlap and in other cases there are clear differences. To ensure a well-maintained work environment, businesses must understand how their corporate cleaning services operate and how building maintenance affects their work.
At We Clean It, our experienced team of professionals understands how commercial cleaning services in Toronto must cooperate with building maintenance to produce desirable results.
Read on to learn more about the relationship between cleaners and building maintenance.
Responsibilities of Commercial Cleaning Services in Toronto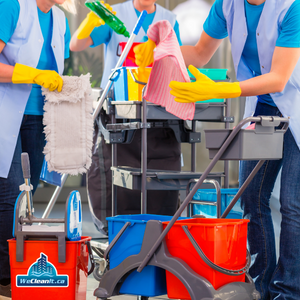 Depending on the nature of your business and the type of property you are occupying, the service you require from corporate cleaning services will vary. Polishing and waxing are commonly requested services for warehouses and factories, while sanitization or disinfection is in heavier demand from retail stores with heavy traffic or medical offices where hygiene is of utmost importance.
Despite industry related variances, commercial cleaning services for businesses will typically include all or some combination of dusting, polishing, vacuuming, carpet cleaning, floor cleaning, garbage removal, stain/grease removal, glass cleaning, restroom restocking and cleaning, sanitizer and soap replenishing, lunchroom and lounge cleaning, hardware (computers, phones, etc.), air vent dusting, and more. At We Clean It, these services are adjustable, based on your unique needs and the demands of your business. Essentially the purpose of a regularly scheduled commercial cleaning services for businesses to enable and maintain an hygienic, organized, and welcoming environment by eliminating the burden of day to day cleaning.
Responsibilities of Building Maintenance Services for Business
Commercial building maintenance services go beyond the day to day needs of an office. Building maintenance teams are often brought in for one-off incidents that don't involve contamination of services or messes. Systems that have broken such as ventilation systems, pipe leaks, and other structural issues or building envelope problems should be directed to building maintenance, but that doesn't mean commercial cleaning services in Toronto, like We Clean It, should not be involved at all.
Instances where there are pipe leaks, broken drywall, or any other issue that demands urgent repair from a maintenance contractor, would benefit by follow up from a commercial cleaning contractor. Leaks can stain floors, dirty carpets, pathogen contamination, and more. Renovations often leave a mess behind even weeks after completion, thus it would benefit from sweeping, mopping, and other cleaning services for businesses.
Comparing Cleaning Services & Building Maintenance
Commercial cleaning services for business and building maintenance both aim to enhance the environment, the main difference or responsibilities. Businesses benefit from regularly scheduled visits from commercial cleaners, to mitigate more common needs that need attention more frequently like dust, allergens, germs, and disease, while maintenance attends more to the functionality of building systems. Both are key to a high functioning workplace with happy customers and good employee morale.
Choosing the Right Commercial Cleaning Service for Your Business
The right commercial cleaning service for your businesses doesn't operate using a one-size-fits-all approach. The We Clean It team tailors our services directly to your business leveraging different strategies for medical offices, storefronts, manufacturing facilities, and more.
Contact Our Team of Cleaning Experts to Learn More About Our Specialized Services for Businesses.