The Importance of Commercial Cleaning for Communal Areas
Posted on 13 October 2023
Commercial spaces and offices are epicentres of productivity, collaboration, and innovation in the bustling business world. That's why a clean and hygienic workplace is critical within individual offices and communal areas shared by employees and visitors. Commercial cleaning in Toronto focuses on communal areas like lobbies, lunchrooms, bathrooms, and boardrooms.
Learn why commercial office cleaning services are non-negotiable to keep your communal areas pristine.
The First Impression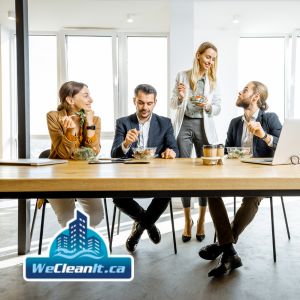 The saying "You'll not get a second chance to make a first impression" rings especially true for the business world. A clean and welcoming lobby is the first point of contact for clients, partners, and visitors. Opting for commercial cleaning in Toronto ensures immaculate receptions and lobbies, free of dust, dirt, and clutter. This leaves a positive and lasting impression on anyone who walks through your office doors.
Sanitation
Proper sanitation in the workplace is crucial to counter the prevalence of germ hotspots on various objects and surfaces. These hotspots–computer mice, desk phones, shared office equipment, and door handles, inadvertently facilitate the transmission of multiple illnesses. A clean and sanitized office mitigates the risk of disease transmission among employees. Office sanitation reduces the spread of colds, influenza, skin irritations, and respiratory issues, with a 62% reduction in viral contamination of shared surfaces. Commercial office cleaning services are pivotal in curbing the spread of contagious diseases. Bathrooms are perhaps the most critical communal areas where regular professional cleaning and sanitization can reduce the spread of workplace illnesses and promote a healthier workspace.
Employee Health, Hygiene & Morale
The average Canadian employee puts in about 40 hours per week at the office. That's why the office should be a warm, inviting, and safe space for everyone. An organized and clean workspace makes staff comfortable and motivated. They're able to focus and contribute better to work goals. Employee satisfaction and productivity are directly linked to the quality of their work environment. Lunchrooms and break areas are sacred spaces where employees recharge and bond. Commercial office cleaning services ensure these spaces remain free of germs and clutter, allowing employees to unwind in a clean and pleasant atmosphere.
Safety
Cluttered and poorly maintained communal areas can pose safety hazards. Spills, loose cables, and obstructions in lobbies, hallways, and other common areas can lead to trips and accidents. Commercial cleaning services ensure that these areas are consistently maintained and cleaned regularly. This minimizes the risk of workplace accidents and potential liabilities. Professional cleaning services also demonstrate employer commitment towards employee well-being.
Enhanced Indoor Air Quality
Clean communal areas also improve office air quality. Dust and allergens often accumulate in shared spaces, bringing down indoor air quality and negatively affecting the health and well-being of everyone present. Commercial cleaning in Toronto includes regular dusting, vacuuming, and air purification to ensure clean and healthy air within your workspace. Banish dust, allergens, and particulate matter from your office and communal spaces with commercial cleaning services.
Clean & Hygenic Communal Areas with We Clean It
Commercial cleaning in Toronto goes beyond the apparent cleaning tasks to fostering a conducive and safe workspace. Choose We Clean It's commercial office cleaning services to maintain your communal office space and watch your business flourish in a clean, safe, and professional atmosphere. Team We Clean It offers exceptional value with high-quality, flexible cleaning solutions at affordable prices. Bring the benefits of clean communal areas and a safe work environment to your workplace–call now to book a We Clean It service!