The Importance of Commercial Cleaning After Water Damage
Posted on 10 August 2023
Property maintenance is not a typical priority for business owners. With that being said, unforeseen challenges can arise that can wreak havoc on your business space, like water damage. Whether from wear and tear or a storm, call We Clean It for commercial cleaning in Toronto. Rely on a professional cleaning company to ensure the best results to keep your business running. We provide services for any commercial cleaning, from school to office cleaning, in Toronto. Contact us today if you need a cleaning service for your business space.
Learn about the importance of commercial cleaning after experiencing water damage below.
Common Causes of Water Damage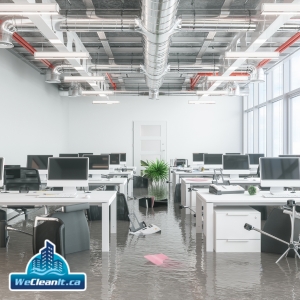 In commercial and residential properties, many causes of water damage aren't noticeable at first sight or can be hidden in walls. The following are the most common causes of water damage:
Pipe leaks
Plumbing clogs
Flushing foreign objects down the drain
Natural Disasters
It's essential to be aware of these causes to prevent them. This prevents the need to call for commercial cleaning in Toronto after discovering water damage.
When is it essential to get Commercial Cleaning
Once you notice signs of water damage, calling for a cleaning service to rid your space of excess moisture is crucial. Signs become more apparent as time passes and more water enters the building. If you notice the following, these are signs that you need office cleaning in Toronto:
Strange and musty odours
Hairline cracks or bubbling in the paint
Water rings (brown or yellow)
Sagging ceilings
Water damage doesn't only cause damage to your home but can cause health risks as well. With excess water and moisture in the space, if not remediated in a timely manner, mold growth can occur, affecting the health of you and the other people occupying the space. Mold exposure symptoms can resemble allergic reactions; stuffy/runny nose, coughing, sneezing, itchy eyes, dry skin, etc. When you or your peers are experiencing these symptoms, it's time to call for a commercial cleaning.
Why is it essential to get Commercial Cleaning
As mentioned above, failure to clean after water damage can result in severe health benefits. It's essential to tend to these issues as soon as they arise to not only prevent liabilities in your company but ensuring your staff are safe and healthy. Instead of performing the remediation yourself, contact a professional cleaning service to provide the best possible results, with the proper protection and equipment to leave your space spotless. When dealing with mold especially, they can handle the situation accordingly to prevent further mold-related issues from arising.
Commercial Cleaning with We Clean It
At We Clean It, we use products that are contaminant free. By using Bio-based products, we aim to provide a clean and safe environment for our clients. Available in and around the GTA, contact us now for high-quality cleaning solutions. Our team is highly trained to get into the nooks and crannies of your space so that you can walk in the next day to a spotless office.