The Correlation Between Clean Offices and Increased Employee Productivity
Posted on 05 August 2022
After countless hours and work put into your business, you deserve a clean office. Regardless of how well your company is doing, if one of your customers or visitors walks into a messy office space, it's not a good look. Many offices around the GTA use office cleanings in Toronto to keep it clean and sanitized all year round. Cleaning services for businesses can transform your place into a productive and well-organized office. It's never too late to get professional office cleanings with We Clean It.
Read on to learn the correlation between clean offices and increased employee productivity.
How Clean Offices Promote Increased Employee Productivity
Increased Motivation: We've all experienced burnout in the workplace, and having an environment that is gloomy, messy, and unorganized makes it much harder to focus. The environment you work in plays a prominent role in how you perform at work. When you are surrounded by a mess and your workplace isn't organized, it can make you feel overwhelmed, frustrated, and fatigued. When working in a stressful environment, boosting employee morale is essential. It is proven by several studies that having a clean office helps lift and motivate employees to do their best. Getting an office cleaning in Toronto can drastically improve your employee productivity. With a sanitized, tidy, and well-maintained workspace, you will notice a positive difference in your staff's productivity.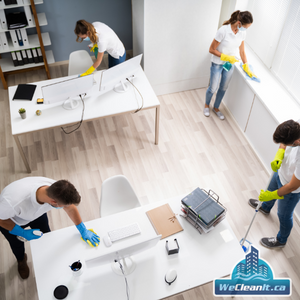 Reduced Employee Absenteeism: Having a clean workspace allows employees to enjoy their work time better. You know a clean space makes you feel better, so why not implement a professional cleaning schedule to keep it spick and span? Getting professional cleaning services for businesses is crucial to keeping your employees safe and healthy. Reduce employee absenteeism by having a sanitized and disinfected environment. When offices aren't kept clean, dust, dirt, allergens, and even mold can be present, causing employees to take more sick days. Office furniture and equipment have plenty of germs, primarily a keyboard with up to 7,500 bacteria per swab. With a clean office, there will be fewer germs and illnesses around the office, reducing employee absenteeism and employee turnover.
Less Stress: Stress in the workplace is typical, but when it's 24/7, you can quickly burn out. The most common cause of long-term sickness is absences, making it essential to relieve stress in the workplace whenever possible. A chaotic, disorderly, and unclean office can sometimes contribute to high-stress levels. When the space you work in is organized, it allows the employees to be more organized. Stress levels will decrease when you're organized and on track, and your things are in the right place. We Clean It has the tools and skills to effectively clean and sanitize any type of office, big or small.
Professional Approach: When you work in an environment that isn't professional, don't be shocked when your employees act the same way. When surrounded by constant mess, it's easy to act unprofessionally. If you have an unclean workplace and notice your employees acting unprofessional, you should consider hiring professional cleaning services. Doing so improves the atmosphere and the perception of your company as a whole. It's time to get serious about office cleaning in Toronto.
We Clean It Is Your Top Office Cleaning Company
It's time to invest in your business and your employee's well-being with professional office cleaning. Regardless of the time, we work around the clock to accommodate your schedule. Say goodbye to a messy, unkempt office and hello to a clean and professional setting.
Contact us at 416-255-6666 for office cleaning in Toronto!