The Best Disinfectant Office Cleaning Services In Toronto
Posted on 15 April 2021
With the entire world on tenterhooks due to the COVID-19 pandemic, regular disinfection and sanitization have become vital for safer homes and workplaces. As an Essential Commercial Cleaning Service in Toronto, We Clean It is at the forefront of the fight against Corona. We remain committed to promoting safe & sanitary workspaces & homes during these pandemic times. We have implemented and optimized enhanced safety protocols and precautions to provide you with contact-free disinfection and office cleaning services in Toronto.
Enhanced Disinfection Services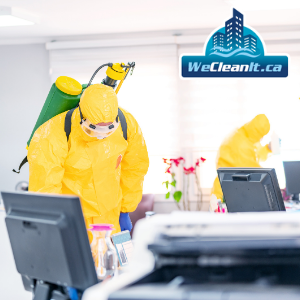 After a detailed study of cleaning regimens to mitigate COVID-19, we have developed special enhanced disinfection services. The focus is single-minded—safer homes, businesses and offices for your protection. We Clean It crew has been specially trained for industry-leading applications approved by Health Canada. Avant-garde applications like mist fogging follow a 360-degree approach to eliminate up to 99.99% of all harmful bacteria and germs, including COVID-19.
High Contact Surface Disinfection
The first level of our enhanced disinfection service covers Corona hotspots with highly touched surfaces in your office or home. Using a specialized hospital-grade disinfectant, our cleaning crew manually sprays and cleans frequently touched surfaces. This disinfectant service is now an essential element of our commercial cleaning services in Toronto. Killing up to 99.99% of germs and viruses, this service is performed on all door knobs, switches, appliances like laptops, telephones etc. It also includes the handrails on stairs, sinks, faucets, toilet seats & handles.
Enhanced Air Quality Disinfection
Amongst all office cleaning services in Toronto, our Enhanced Air Quality Disinfection services are a class apart! Leading-edge 360 degrees fogging technology is employed to thoroughly eliminate 99.99% of harmful pathogens, airborne viruses, and bacteria in your home & offices. This top-tier fogging methodology is effective in covering every inch of your office or home. It not only ensures that your office/home surfaces are protected, but even the indoor air is safe from all airborne viruses and pathogens. This makes our Enhanced Air Quality Disinfection service an ideal solution to eliminate the dangerous Coronavirus from high traffic spots like offices, educational institutions, medical offices, gyms & retail spaces. Our special hospital-grade disinfectant is entirely safe for use on almost all surfaces–from children's toys to kitchen countertops & office equipment.
What's more, the disinfectant spray kills all mold & mildew and prevents re-growth for up to 6 months! Approved by Health Canada, our disinfectant fogging does not use bleach or toxic chemicals. The fogging mechanism disinfects every inch of space so that you, your employees & customers can breathe pure & clean air! What you get is enhanced air quality disinfection with a safe and protective indoor work/home environment.
Do you wish to create a safe and protected environment for your employees and customers post COVID-19?
Look no further than the Enhanced Disinfection Services from We Clean It, the undisputed leaders in commercial cleaning services across Toronto! Our top-of-the-line office cleaning solutions and disinfection services can be customized to suit every business & budget! Help break the COVID chain and curb the spread of Coronavirus with our fast & effective disinfection & sanitization services. Dial 647-999-6898 to start a conversation about our Enhanced Disinfection Service today! Or email info@wecleanit.ca for complete information & a free service quote!