4 Steps to Ensure Your Medical Office Remains Clean & Safe
Posted on 06 May 2021
Medical offices, labs, and practices are expected to be kept in pristine condition to protect the well-being of both patients and employees. Even in the face of the COVID-19 pandemic, medical services remain open across the city, serving the public. To maintain a high standard of cleanliness and protect patrons and employees, it's best to look for commercial cleaning services in Toronto with expertise and experience with the high standards of medical offices. At We Clean It, our team of cleaning professionals provides an all-in-one service including equipment, materials, and a team of expert cleaners to keep your office safe and protected.
Prepare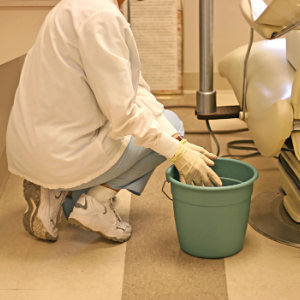 Dirt, bacteria, dust, and other contaminants could be lurking anywhere in your medical office. The cleanliness of every nook and cranny in a doctor's office is essential to maintain the health of every visitor. When you can assess what areas require cleaning or what kind of problems are lurking in the office, you can better buy supplies and equipment to eliminate them. Before cleaning, it's helpful to conduct a thorough examination of the entire office to check for unexpected stains, messes, or other problems you might not have noticed or thought of without seeing. Even when you're not working, it's a good idea to keep a working list of areas that need attention so that you never have to miss anything important.
Prioritize
It's best to turn your focus primarily to high-touch and high-traffic areas where people are most exposed and vulnerable to harmful contaminants on the surfaces or in the air. Pay attention to nurse stations, front desk keyboards, computers, pens, doorknobs, and other frequently touched items that facilitate bacteria transmission. At We Clean It, our team of expert cleaners are equipped with the specialized equipment and knowledge to ensure a comprehensive clean to your medical office's washrooms, examination rooms, and all other priority areas.
Sanitization
A crucial step in maintaining the cleanliness of any medical office is sanitation. Alcohol-based disinfectants are an easily accessible product that can be used to wipe or spray surfaces to ensure they are bacteria and virus-free. Often, these store-bought items are not durable enough for consistent, widespread use in medical offices. To adequately clean examination rooms, washrooms, and high traffic areas, you will typically have to go through so many disinfectant wipes or sprays it will be unsustainable. To get a more affordable and manageable disinfection process, choose an office cleaning service in Toronto, like We Clean It, with the tools and skills to keep your medical office protected both adequately and efficiently.
Professionals
If you want to be confident your medical practice, office, or lab is continuously meeting a high standard of cleanliness, your best option a professional. Commercial cleaning services in Toronto are easy to find, but be sure to select one that can provide a thorough and diligent clean to the entire space. When you choose We Clean It, you are selecting a cleaning service that is reliable, effective, and affordable. We are one of the top office cleaning services in Toronto for medical office cleaning. We understand just how important it is to provide a sanitary environment for your staff and your patients, so that's what we deliver.
Don't settle for less than the best when it comes to your medical office. Choose one of the top office cleaning services in Toronto - We Clean It.
Call us today or send us a message to find out how to keep your medical office clean and safe.