Reasons Why You Should Hire a Professional Event Cleanup Crew
Posted on 18 October 2022
When you're hosting an event, there are many factors you need to consider, including the budget, the number of guests, the location, and event cleanup. After an event, the last thing you want to do is spend hours cleaning up all the accumulated mess. The scene is overwhelming, and it can be challenging to clean the place exactly how it was before the event started.
Hiring a trusted company for commercial cleaning services saves you time and minimizes stress. Whether you're planning a BBQ for your employees, hosting a holiday party or a special event, the team at We Clean It provides reliable commercial cleaning in Toronto, so you can focus on hosting a successful event.
Here's why you should hire a professional event cleanup crew.
Why Hire a Professional Event Cleanup Crew?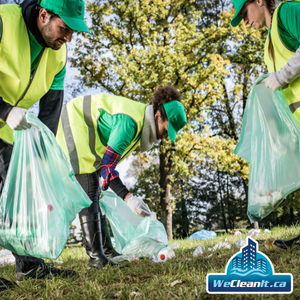 As soon as the event is finished and people start to leave, our team will cover the cleanup duties to take the pressure off your plate. For decades, We Clean It has been providing exceptional commercial cleaning services and event cleanups in the Greater Toronto Area, so you can rely on us to take care of the mess in no time.
Versatile Range of Services
Post-event cleanup services include Garbage Removal, Sidewalk Sweeping, Trash Hauling & Recycling Services, Complete Post-Event Site Teardown, and other services by request. With years of first-hand experience, our team is confident you'll be satisfied with our professional commercial cleaning in Toronto.
Weddings
Theatres or Museums
Outdoor & Street Festivals
Corporate Events
Concert Venues
Film Sets
Sports Stadiums & Arenas
And more!
Saves Time
Event cleanups are a big job and require a lot of time and energy to get the space cleaned perfectly. Since the venue should look how it did before your event started, it's crucial to hire a professional cleaning company to effectively clean up. Thankfully, the experts at We Clean It coordinates all the necessary equipment, manage our event cleanup team, collaborate with the site management to ensure a smooth operation, and ensure the event space is back to its original condition - allowing you to enjoy the event without worrying about how much time you'll spend cleaning up.
Reduces Stress
Hosting an event is stressful enough, and with standard cleaning equipment, getting an adequately clean environment is next to impossible and can be stressful to do alone. Professional event cleanup takes experience, knowledge, and hard work and requires heavy-duty equipment and cleaning supplies to get the job done right. At We Clean It, we offer high-quality equipment, including steam cleaners, carpet extractors, stain extractors, premium floor scrubbers, and much more. With superior cleaning equipment and a team of experts, you can always count on a stress-free and perfect cleanup.
Expert Commercial Cleaning in Toronto
At We Clean It, we take a meticulous approach to cleaning your venue to a tee. We offer trained and insured cleaning teams, competitive pricing, and flexible scheduling for those late-night events. Our team of professionals ensures your event cleanup runs smoothly, saving you time, stress, and worry.
Choose We Clean It for exceptional event cleanup services today.