How to Streamline Spring Cleaning for Businesses
Posted on 18 February 2022
Despite what any groundhog has to say, the melting snow and sunny days mean that spring is near. The next few months are the perfect time to reset with spring cleaning for many people. For businesses looking to clean up and refresh their interior space, commercial cleaning services for businesses can be a great help. With the support of corporate cleaning services, you can streamline the headache of spring cleaning for your business and office.
Why Hire Commercial Cleaning Services for Business During Spring Cleaning?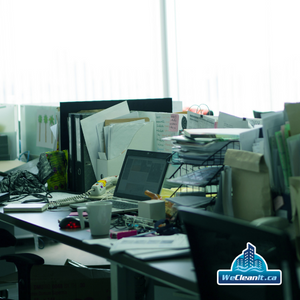 When you work with We Clean It, your corporate cleaning services are equipped with the equipment, tools, and expertise to manage cleanup strategically and efficiently. By taking on the tedious and time-consuming tasks associated with spring cleaning, you can focus your attention on management and running your business. And when you work with commercial cleaning services you trust, you can schedule regular cleanings to maintain high-quality results throughout the year.
Decluttering
When you start to clean up, the priority is to declutter for most people. Not only are messy papers and misplaced items hard to look at, but they are also bad for productivity and even employee morale. As you sort through junk, your wastebaskets will inevitably start to fill up with artifacts from months past. While you can take the lead on deciding what papers, documentations, and other objects need to be retained, the We Clean It team can take care of the efficient removal of the garbage. As decluttering occurs, the amount of waste usually increases exponentially, and if not taken care of, it can hinder the work environment.
Dusting
As you get into the less frequented corners of your office: bookshelves, storage closets, file cabinets, deposits of dust will likely be discovered. Dust, seemingly harmless, can accumulate and be more than just a nuisance. Even in minimal quantities, exposure to dust can result in allergic reactions long term periods of feeling sick. For the vulnerable or unprepared employee, this often means days off and periods of low productivity. When you choose the commercial cleaning services at We Clean It, you can scratch dusting off your list. We'll take care of dust removal and minimize its effects on you or your team.
Vent & Air Refreshing
Moisture, mold, and dust can build up over time in vents around the office. This can quickly contaminate air leaving employees, clients, and visitors feeling sick when inside for extended periods of time. With Vent & Air Freshening during your spring cleaning, you can breathe easier by clearing out your vents and boosting the health of your indoor air. We Clean It offers vent and air freshening services that you can trust.
Clean Your Floors
Usually, the floors – tile or carpet, take a beating every day, bringing in dirt from outside and collecting spills and whatever else our shoes have to offer them. With corporate floor cleaning services, you clean all types of flooring surfaces for a refreshed-looking office space. We Clean It provides vacuum and steam cleaning of carpeted surfaces, as well as wet and dry mopping or sweeping of hardwood floors.
You can always trust the team at We Clean It for all your commercial cleaning needs.
Contact us today to explore our custom cleaning services for businesses.