How to Maintain A Clean Office In-Between Visits From Your Commercial Cleaning Service in Toronto
Posted on 07 September 2021
Commercial cleaning services in Toronto are a great starting point for creating a healthy, safe, and hygienic office space. Customers, employees, and even other vendors will thank you for it. Not only will a local office cleaning service improve employee morale, productivity, and retention, it will also reduce sick days and personal time off, saving your company money. The only trouble that some businesses find with scheduled office cleaning services in Toronto is maintaining a high level of cleanliness in-between visits from your janitorial staff.
To keep up a welcoming and comfortable work environment in your office, here are some tasks you can take on in addition to hiring a commercial cleaning service.
Ensure There Are Enough Garbage & Recycling Bins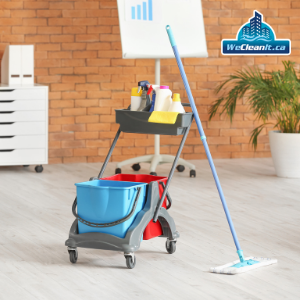 One of the most unsightly scenes a client can observe when walking to an office is overflowing garbage bins. If you can't find the time or space in your budget to schedule commercial cleaning services in Toronto frequently enough to manage daily waste, there must be enough disposal bins available throughout your office. With somewhere discreet that garbage can be hidden, you can not only reduce the clutter of loose papers and unwanted junk, but you can also keep up a professional appearance.
Wipe Down Surfaces Frequently
Is someone on vacation, or has the boardroom not been used as often? Unused areas need attention too. Take a microfibre cloth or a duster and wipe away the dust that has accumulated. By removing dust, dirt, and contaminants, you minimize the allergens in the air that can make employees sick, uncomfortable, and unable to work. If you notice an area that is not getting enough attention from your commercial cleaning company, share that information with them.
At We Clean It, we encourage communication with our clients to always provide a cleaning experience that exceeds expectations. That's why we develop custom cleaning plans designed to target the most in need areas of your space based on the functionality of that room and its exposure.
Disinfect High Traffic Areas
Depending on how frequently you schedule commercial cleaning services in Toronto, you may not see it, but viruses and bacteria may be accumulating in high-touch areas. If your business is prone to visitors, then it's good to disinfect phones, doorknobs, and bathrooms regularly with alcohol-based products that effectively kill germs. Be sure to dispose of used products and gloves to avoid cross-contamination. If you run a medical practice in Toronto, it is safest to schedule office cleaning services more than just once every week.
Clean Up Spills Immediately
If it's going to be a few days between your scheduled visit from the office cleaning company, don't leave spills of water or sticky liquids. Water can invite mold growth, which can spread and interfere with air quality. Sticky spills attract insects like fruit flies, ants, even spiders, bees and more. These pests are more than just a seasonal nuisance. They can cause discomfort in the office and scare off customers.
When you work directly with an office cleaning company in the city, prioritizing communication, you can optimize your clean for the best results.
Contact We Clean It to start building your custom cleaning plan today.