How to Choose the Best Commercial Cleaning Company in 2023
Posted on 11 January 2023
Maintaining a clean and sanitary work environment is critical for your company's reputation and success. Clients, customers, and staff all notice and appreciate a clean, well-maintained facility. Hiring commercial cleaning services in Toronto ensures that your office looks presentable and professional. Expert janitorial services in Toronto from a reputable service provider like We Clean It can make all the difference. Typically, most business owners do not put much effort into zeroing in on the right cleaning company. However, it is essential to take time and effort to find the ideal commercial cleaning service in Toronto that meets your business requirements.
Read on for a quick guide to choosing the best commercial cleaning company in Toronto for your business.
Established & Experienced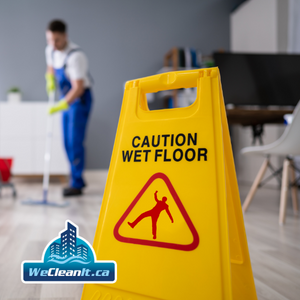 Do your research and choose an established and experienced service provider for your business. Hiring the wrong crew for janitorial services in Toronto can be stressful and expensive in terms of lost time and money. The company you hire should have the necessary credentials and experience specific to your particular facility. For example, cleaning an office differs from cleaning a retail facility or a factory warehouse. Choose a service provider with industry experience and know-how for cleaning your business facility.
Training, Certifications, & Work Standards
Professional and trustworthy commercial cleaning services in Toronto should have the necessary certifications and work standards for the type of cleaning you need. Check the credentials, insurance, and business license before hiring a cleaning company. Liability insurance protects you and the worker in work-related accidents and injuries.
Every cleaning service provider has different training and work standards for its employees. Reputable companies have an established cleaning process, and the crew works off a prescribed cleaning checklist. This ensures that all workers are at work to thoroughly clean and sanitize every nook and cranny of your facility.
Type of Commercial Cleaning Services
Check the type of services offered to ensure that you select the company that provides the cleaning services you need.
A professional full-service cleaning company should typically offer the following:
Daily or weekly janitorial services
Hard floor maintenance, including monthly/quarterly machine scrubbing
Carpet cleaning
Window cleaning
HVAC vent cleaning
Disinfection & sanitization services
Customer Reviews & References
Check customer reviews, enquire about past and current clients, and ask for references to gauge how well-established and trustworthy the company is. Almost every company has a website or online presence, including professional cleaning companies. Visit their Linkedin or Facebook page for feedback and reviews to get a fair idea about their work.
Flexibility
Flexible scheduling is another essential consideration when choosing a commercial cleaning service in Toronto. The company should be able to work according to your business schedule and processes. That could include cleaning before, after, or during work hours. Your janitorial service should also be available for emergency cleaning requests and other specialized cleaning requirements.
Choose Unmatched Professional Cleaning Services
Hiring the perfect commercial cleaning services in Toronto takes time and a bit of research. You deserve a service provider that aligns with your unique needs, schedules, and corporate standards. That's why partnering with the professionals at We Clean It will ensure a safe & pristine workspace. With more than 20 years of expertise in the cleaning industry, we're your go-to cleaning specialists across the GTA. Whether you require regular cleaning & maintenance or specialized disinfection services, our custom cleaning solutions are designed to fit your needs and budget.
Connect with us today to experience the We Clean It difference!