How to Avoid Cross Contamination in Your Office
Posted on 02 July 2021
Many businesses leverage commercial cleaning services in Toronto to fight the bacteria, viruses, and pathogens that exist all around us that risk infecting employees, visitors, and customers alike. Office cleaning services in Toronto are essential for protecting the health and comfort of employees and visitors alike. However, if improperly handled, office cleaning services in Toronto can mistakenly cause cross-contamination, which would spread germs around a commercial space instead of disinfecting or removing them. At We Clean It, we are committed to providing strategic office cleaning services in Toronto and delivering quality results that keep everyone safe.
Learn how you can eliminate the threat of cross-contamination with professional commercial cleaning services.
What is Cross-Contamination?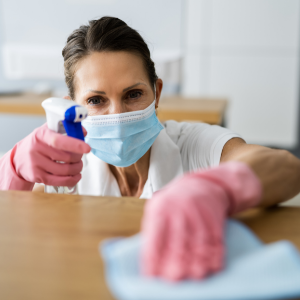 Cross-contamination occurs when germs move from one surface or person to another. If not properly prevented, this process often accounts for the fast spread of bacteria or viruses in small contained spaces. If a sick or infected person touches a surface, germs can transfer easily to that surface and can be picked up by the next person who makes contact with the same surface.
The Role of Janitorial Services in Cross Contamination
Commercial and office cleaning services in Toronto can be the solution to preventing the spread of disease, but they can also exacerbate the problem if the proper measures are not taken. Reusing the same washcloths and mops in multiple locations can perpetuate the spread. While this may be unintentional, it's essential that businesses choose an office cleaning service in Toronto that leverages measures that actively prevent cross-contamination.
The Effects of Cross Contamination
The spread of viruses and bacteria in the workplace as a result of poor cleaning practices can result in a loss of employee satisfaction, productivity, and increased use of sick days, which can cost businesses time and money. At We Clean It, we make strategic cleaning plans tailored to any office or commercial space and its unique needs to prevent cross-contamination and its fallout.
How Do We Limit Cross-Contamination?
While to some degree, cross-contamination is inevitable, there are many effective ways employers can minimize cross-contamination from occurring in the workplace. Primarily, hire a commercial cleaning service in Toronto that actively thinks about preventing cross-contamination from the start. If the spread of germs is an afterthought for an office cleaning company in Toronto, then there is more room for this problem to slip through the cracks.
There are key practices that cleaning companies can leverage to stop the spread, including separating bathroom cleaning supplies from those used for other spaces. Additionally, disinfectants, adequate personal protective equipment (gloves, masks, etc.), and colour-coding supplies can all work together to prevent the spread of contaminants.
The use of safe disinfectants for doorknobs, keyboards, taps, stationary, phone receivers and other high touch areas helps to tackle the high-touch areas where bacteria and viruses are most frequently found and exist in the highest quantities.
Choose a Commercial Cleaning Service You Can Trust
Avoid cross-contamination by choosing a commercial cleaning company you can trust. At We Clean It, our team of professionals takes a strategic approach to commercial cleaning, from supplies and planning to execution.
Contact us today to find out more about how We Clean It can help keep your commercial space clean and safe.