How Property Management Companies Can Choose the Best Janitorial Services
Posted on 28 August 2023
Property managers have many responsibilities in the bustling property management world–maintenance, payments, and more. Sourcing a reliable cleaning company for regular building cleaning and janitorial services in Mississauga is another essential task to maintain the pristine appearance and hygiene of commercial spaces. A visibly clean and impeccable unit elevates the quality of your managed property and creates a positive image. One needs to consider a multitude of factors to partner with the best service providers for office cleaning in Mississauga.
Read on as the We Clean It experts enlist key attributes for choosing reputable janitorial services in Mississauga.
Reliability, Reputation & Experience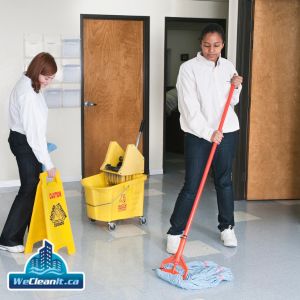 Reliability is a non-negotiable factor for office cleaning in Mississauga. Property managers must seek service providers with a proven track record of consistent and dependable service. Professional janitorial services in Mississauga add value and are a covert marketing strategy for your property. Thus, it's crucial to partner with a reputable and reliable company like We Clean It that understands the significance of timely and thorough cleaning to maintain the reputation and functionality of the managed properties. Research by reading reviews and seeking recommendations from other property management professionals.
Flexible Scheduling: Catering to Diverse Needs
Property managers cater to diverse requirements–office buildings, retail spaces, healthcare facilities, and more. One-size-fits-all solutions rarely work, so property management companies should select janitorial service providers offering flexible scheduling options. With various clients and property types, the cleaning provider should be able to customize cleaning schedules to ensure premises are cleaned efficiently without disrupting daily operations.
A Range of Services
A top-tier janitorial service provider should offer a comprehensive range of services that extend beyond basic cleaning. From floor maintenance and window cleaning to carpet care and restroom sanitation, professional office cleaning companies in Mississauga should be a one-stop solution. This saves property managers valuable time and effort in sourcing multiple service providers.
Green Cleaning Practices
Environmentally friendly practices are not only responsible but also preferred by many tenants. Inquire about the janitorial company's commitment to green cleaning products, equipment, and procedures.
Tailored Approach
Each commercial facility is unique, and the janitorial service you choose should take the time to understand the specific requirements of each facility to provide customized cleaning. This personalized approach ensures that the cleaning regimen is aligned with the facility's unique layout, foot traffic, and usage. The end result? A professionally cleaned and more hygienic environment.
Location
The cleaner's proximity to your property substantially impacts cleaning efficiency and convenience. Opt for a janitorial service that is easily accessible, as the commuting time required to reach your premises can increase overall cleaning costs. Moreover, an inconveniently placed service might offer a less accommodating cleaning schedule, further complicating the arrangement.
Transforming Spaces with We Clean It
Office cleaning in Mississauga is pivotal for maintaining your commercial space's appearance, hygiene, and functionality. Janitorial services in Mississauga are not limited to cleaning–they're also about creating an image and branding your property. At We Clean It, we're committed to creating spaces that radiate freshness & professionalism. Trust us to exceed your janitorial expectations, delivering a spotless environment that leaves lasting impressions. Elevate your commercial office or property with our dedicated team–experience pristine spaces and impeccable offices with Team We Clean it! Call now to discover the difference in cleanliness & comfort!