How Often Should I Schedule Office Cleaning Services
Posted on 22 August 2022
A clean, organized workplace is essential for the overall outlook of your business and the health and safety of your staff, visitors, and customers. Dirty and unkempt offices leave a negative impression on your clients and customers. They can also impact the morale and productivity of your employees. In fact, office cleaning can be a challenge in the backdrop of the covid pandemic, with companies struggling to align cleaning needs. Ensure a healthy workspace free of mould, allergens, dirt, and dust with regular disinfection and commercial office cleaning in Toronto. But, how often should one schedule corporate cleaning services? The answer depends on several factors. Here are a few significant factors that determine the frequency of office cleanings required by a company:
Type of Cleaning Needed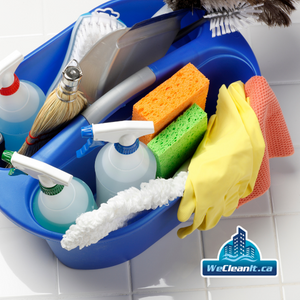 Cleaning tasks like dusting, vacuuming, cleaning washrooms, etc., must be scheduled regularly to maintain health and safety standards. Other cleaning services like window cleaning may be performed monthly or bi-monthly. Carpets can be professionally shampooed every 6 months, or you may prefer to have them deep cleaned monthly. Don't forget to pay attention to your office exterior—pressure-wash concrete or brick exteriors once or twice a year. Thus, the type of office cleaning you wish to outsource to corporate cleaning services will determine how often you need to schedule them.
Size of Company
Large companies with more employees require frequent office cleaning in Toronto as they face more people and traffic at the office. You may have to call your cleaning professionals daily if you manage many clients and a considerable workforce. Small businesses with fewer employees can operate with a bi-weekly or weekly clean. Common office areas like lobbies, breakrooms, bathrooms, and kitchens can get dirty quickly compared to other places. Toilets and sinks should be cleaned and disinfected daily, even if you have a small workforce. If you have many employees or frequent visitors using these facilities, schedule 2-4 restroom cleanings a day to keep them fresh and germ-free.
Type of Business
The frequency of office cleaning also depends on the type or nature of your business. If you run a showroom or studio that sees walk-in customers, you will need to clean it frequently. The first impression, overall cleanliness and ambience can influence client buying decisions. Similarly, if you often entertain clients or hold regular in-office meetings, you should hire corporate cleaning services for daily cleaning. If you have an office that works in a hybrid mode or has fewer visitors, you may opt for occasional/weekly cleaning. Hospitals, clinics, daycares, and restaurants require thorough daily cleaning and disinfection services.
The Final Word
The Covid pandemic has only reiterated the importance of a clean and germ-free work environment. Keep the nature of business and the type of cleaning required to keep your employees and customers safe. Remember, there's no right or wrong frequency of cleaning and sanitizing—Schedule professional cleanings depending on your needs.
We Clean It: Your Top Choice for Office Cleaning in Toronto
A fresh and clean workplace keeps your employees safe while adding value and worth to your business. Hiring a reputed corporate office cleaning company like We Clean It answers all your office cleaning questions! The We Clean It team will work with you to determine a customized cleaning schedule tailored to your unique cleaning needs.
Are you in need of office cleaning support?