How a Clean Building Helps Your Business
Posted on 11 April 2023
Whether they know it or not, when someone walks into your establishment the level of cleanliness can significantly inform their first impression. A well-kept office or commercial space is not just hygienic for your employees but facilitates business relationships with vendors and clients. Professional commercial cleaning in Toronto can help improve sales, close deals, and support your team. With the trusted and experienced team at We Clean It, you can leverage high-quality office cleaning in Toronto to maximize your workspace.
Read on to explore why you would need to explore office cleaning in Toronto.
Why You Need Commercial Cleaning in Toronto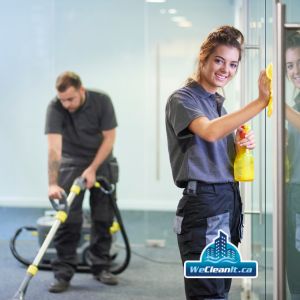 Having a clean, well-kept commercial space is integral to how people will feel about your business or building. Whether running a retail store, office, hotel or factory, keeping your space clean will impact your employees and customers. Office cleaning in Toronto can often be managed in-house, but it is not the most productive use of time and likely won't be as thorough as when you choose commercial cleaning from We Clean It who can take the extra work off your hands. A specialized commercial cleaning company, such as We Clean It, will have the machinery, tools, and equipment that are required for a thorough deep cleaning of various facilities and spaces.
Cleanliness Impacts Recruitment
If you offer a pristinely clean and healthy workplace, it will boost employee morale and help reduce turnover. No one wants to work somewhere that is remotely dirty or dusty, especially if they have allergies. Keeping your employees happy with commercial cleaning in Toronto will often encourage employee referrals and bring in more organic recruitment.
Even if you are conducting on-site interviews, you want to present your company in the best light possible, so showcasing a clean, fresh environment can further help entice a potential employee to join your business. So, considering office cleaning services can help you acquire the talent you want and keep them long-term.
Cleanliness is a Marketing Tool
We often invest externally when we try to market our businesses, but remember the business environment impacts clients and purchase decisions. A clean commercial space is perceived as more professional and organized. So you always want to make sure you are presented in a better manner than your competitors are.
Cleanliness can also impact trust when it's a medical or dental facility. Ensuring your commercial space is in mint shape can ensure you remain competitive in your professional sphere.
We Clean It & Commercial Office Cleaning in Toronto
We Clean It provides thorough cleaning services with our trained and insured staff. We have a wealth of experience that we use to ensure we can clean effectively and efficiently. We offer various commercial cleaning services to suit your business's needs and customize your cleaning service.Our team will use our commercial expertise to help you streamline office cleaning for greater efficiency and effective results you can count on.
Contact We Clean It now to explore all of your cleaning needs.