Essential Commercial Cleaning Services for Offices
Posted on 09 December 2022
From assigning tasks to completing deadlines, owning a business can be challenging and time-consuming, making it easier to forget to clean specific areas or keep up with a frequent cleaning schedule. With employees and potential and existing clients constantly entering your office, it's essential to have a clean and organized space for lasting impressions. Office cleaning in Toronto offers scheduled cleaning services at a professional level - cleaning all areas to a tee. With professional commercial cleaning services at We Clean It, you can guarantee a clean and tidy workplace every time you step foot in your office.
Read on to learn more about essential commercial cleaning services for offices.
What Cleaning Services Do Offices Need?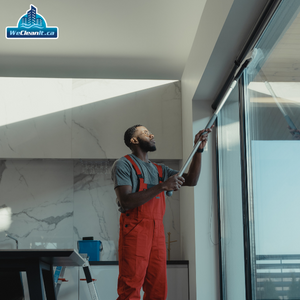 Every office is different, but all workplaces need scheduled commercial cleaning services to remove dust, dirt, stains, bacteria, germs, and odours. Not only does appearance matter, but so does the health and safety of your employees and guests. Employees can get sick often without regular office cleanings, which affects their work ethic and attendance. A pattern of employee absenteeism and turnover may indicate that something could be wrong with the environment, like overflowing garbage bins, dusty countertops, unorganized workstations, bacteria-thriving bathrooms, or dirty carpets. Regardless, offices need specific cleaning services to maintain healthy air quality and indoor environment.
Essential office cleaning services include:
Daily Cleaning & Maintenance:
Vacuum and sweep all high-traffic areas (floors, carpets & rugs)
Spot check all areas for stains & debrisSanitize and clean all washroom surfaces & floors
Restock facilities (paper goods, soap, etc.)
Empty all garbage bins
And more customized solutions!
Weekly Cleaning & Maintenance:
Floor polish & steam cleaning
Detail clean lunchroom, lounges, board rooms, etc. (fridges, counters, chairs, etc.)
Clean, sanitize, and wipe down all office equipment & technology
Maintain & spot check all glass and entryways
Clean & sanitize all workstations & working surfaces
And more customized solutions!
At We Clean It, we offer various customized cleaning solutions and accommodate all schedules. Whether you want to get services daily, weekly, or monthly, our experts will adequately clean, sanitize, and transform your office space.
How Often Should Offices Get Cleaning Services?
The size of your office and the number of employees will depend on how often you should get professional office cleanings in Toronto or surrounding areas. For instance, if you only visit the office twice a week, you'll need less frequent office cleanings compared to an office that is in-person, five times a week, with several employees. At We Clean It, the time between each cleaning and your preferred budget is entirely up to you. We accommodate various workplace industries, hours, and schedules to provide our customers with the utmost care and service.
Professional Office Cleaning in Toronto
The experts at We Clean It have years of experience in office cleaning services throughout the Greater Toronto Area. With cutting-edge equipment, high-quality cleaning supplies, and excellent workmanship, we're confident you'll be more than satisfied with our services.
Are you ready to upgrade to a clean, sanitized, organized office space?
Contact We Clean It to learn more.