Do You Need a Commercial Cleaning Service for Your Business?
Posted on 15 January 2021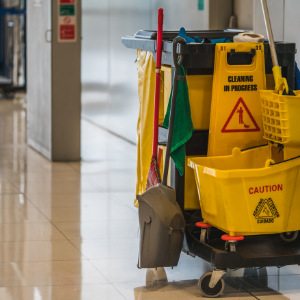 With the number of challenges businesses face every day, the last thing one needs is a dirty workspace. Outsourcing your cleanliness worries to a reliable commercial cleaning service in Toronto will not only give you precious peace of mind but can also positively impact business outcomes to increase your bottom line.
So, What is a Commercial Cleaning Company?
A commercial cleaning company is a B2B vendor providing custom cleaning solutions for businesses, commercial spaces, hospitals, schools etc. This customized cleaning service is usually performed after-hours and includes standard cleaning tasks like dusting, mopping, sweeping, vacuuming, trash removal, bathroom cleaning and other cleaning chores. Other advanced services can include deep cleaning, carpet cleaning, machine and commercial window cleaning and the like.
How Do I Know If My Business Needs a Commercial Cleaning Company?
Do you have a lot of employees or heavy customer traffic in and out of your facility?
In case your business employs a sizable number of people, in-house cleaning may not really work for you. The same goes for any business with a high footfall or customer/vendor traffic. Outsourcing the cleaning tasks to a commercial cleaning service in Toronto will leave you free to concentrate on your core business rather than fretting over a dirty workplace.
Do you have time to spare for office cleaning?
Time is money, and if you are wasting valuable man-hours delegating cleaning duties to your employees, then you are losing both time and money. If you find that your staff is spending more time cleaning the office than doing their routine work, you know you require professional office cleaning in Toronto. A commercial cleaning company takes away the dead weight of cleaning from your employees, leaving them free to do what they are best at, their office work!
Do You Require Specialized or Advanced Cleaning Services?
Institutions or businesses with specialized cleaning requirements such as deep cleaning, disinfection, carpet cleaning, sanitization for dental offices/hospitals etc. require a dedicated commercial cleaning service. These companies have the right tools, training, and products to ensure a thorough clean which might not be possible in house. A commercial cleaning company will use non-toxic, green products and specialized tools to clean your facility the right way.
Do You Wish to Save on Cleaning Costs?
You'll be surprised to know that hiring a commercial cleaning service in Toronto will actually save you money in the long run. By opting for professional office cleaning in Toronto, you'll save on all the costs associated with employing full-time staff for cleaning. An in-house cleaning team will eventually cost you more apart from the additional hassle of computing salaries, leaves, and other collaterals.
We Clean It: Your Trusted Commercial Cleaning Service in Toronto!
We are a full-service commercial cleaning company specializing in commercial cleaning solutions and maintenance. From custom cleaning programs tailored to your specific needs & budget to end-to-end cleaning requirements, We Clean It is your go-to vendor for office cleaning in Toronto. From small offices to commercial spaces, institutional cleaning to medical & dental facilities, we cater to all facilities of all sizes! Thorough, dependable, and professional, we guarantee 100% customer delight. Call us at 647-999-6898 or email at info@wecleanit.ca to know about all our custom cleaning solutions!