Benefits of Evening Commercial Cleaning Services
Posted on 23 December 2022
Whether you work in an office or industrial building, commercial cleaning services for businesses are essential to every business to maintain a healthy and safe facility for employees and guests. With long and unique working hours, finding a company that offers commercial cleaning in Toronto in the evenings may be challenging. Fortunately, We Clean It offers customized cleaning solutions and flexible hours to meet your needs. Select the services you perfer for your business or based on your budget, and choose daily, weekly, or monthly scheduling - depending on what works best for you and your company.
Below are the benefits of evening commercial cleaning services in Toronto.
Clean & Tidy For The Mornings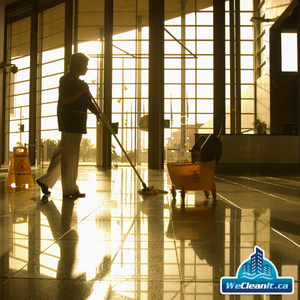 One of the most incredible benefits of scheduling commercial cleaning in Toronto in the evening is that your employees, clients, and guests can walk into a clean, sanitized, and organized workspace in the mornings. Whether you get cleaning services daily, weekly, or monthly, employees will see a noticeable difference in the cleanliness of the workplace. Between clean bathrooms, work areas, carpets, and floors, professional cleaning services leave a visible difference that your employees will greatly appreciate. To keep your work environment in tip-top shape, it's ideal to contact the experts at We Clean It for cleaning services in the Greater Toronto Area.
Doesn't Interrupt Daily Work
Scheduling evening commercial cleaning services permit your employees to focus better throughout the day. Not only does a clean space enhance concentration, morale, and motivation, but when it's done after work hours, it doesn't disrupt any of the workers. If you hire commercial cleaners during the day, they can interrupt employees from their tasks, causing them to become distracted, lose their train of thought, forget what duty is next on their list, or decrease their productivity. In addition to distractions, employees can lose productivity from working in an unclean place where there is dirt, dust, smelly garbage bins, dirty washrooms, and more. At We Clean It, we offer accommodating schedules for all industries, ensuring that every employer can provide a clean space so their staff can work efficiently.
Allows for Effective Cleaning Solutions
Although We Clean It can work efficiently throughout the day, with employees using the washroom and breakroom, walking on high-traffic floors and carpets, and throwing out trash, it can be difficult to effectively clean and sanitize those areas during work hours. However, custom cleaning solutions like carpet steam cleaning or window cleaning can be done throughout the evening so you can walk into a fresh, clean space in the morning. For outstanding service, affordable pricing, and a track record of customer satisfaction, count on We Clean It.
Professional Cleaning Services in Toronto
When searching for a commercial cleaning company, you'll want to choose a well-established business that offers evening services, cost-effective pricing, and cutting-edge equipment. At We Clean It, we offer all of the above and more! With years of experience and highly trained professionals, you can count on us to get your business looking cleaner than ever.