6 Benefits Of Cleaning Services For Restaurant Businesses
Posted on 06 May 2022
There are a number of benefits that are keenly felt by restaurant businesses when they invest in commercial cleaning services.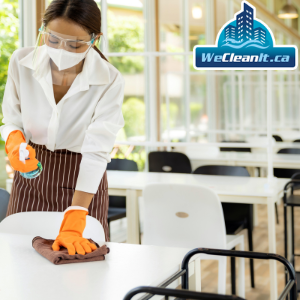 While cleaning is not usually the main topic of conversation when it comes to running a restaurant, investing in professional cleaning services for businesses can provide a wide range of benefits that can be enjoyed by both owners and employees.
A clean restaurant is a healthy restaurant. When employees and guests see a clean, well-maintained restaurant, the business will exude a professional image. This is often an indicator of quality, healthy food. Additionally, a clean restaurant is appealing to potential customers who might want to visit the business. Restaurant cleaning services for Toronto businesses will make your establishment healthier, safer and more appealing to customers with these 6 proven advantages.
1. A Clean Restaurant Wins Customers
A clean restaurant is always more inviting than a dirty one. One of the quickest ways to lose customers is to create an environment that seems dirty and unkempt. If a restaurant is dirty in areas like the restrooms, kitchen or entryway, customers will feel uncomfortable entering the establishment. A well-maintained restaurant shows people that they can trust the business and can eat their food without concern.
2. A Clean Restaurant Saves You Money
There is no doubt that hiring commercial cleaning services will cost you more than doing the job yourself; however, it will also save you a lot of money in the long run. Hiring cleaning services for your restaurant will save you time and money by making your business look clean and by avoiding damage to the property caused by spills and accidents.
3. You Can Focus On Other Aspects Of Your Business
A restaurant is an environment which demands a lot of cleaning activity. You constantly have to be on your toes so that the place is always clean and presentable. There are many instances when it's simply not possible for you to take care of the cleaning activities in your restaurant yourself. A well trained janitorial service can help you with all the tasks that need attention. They will work according to specific schedules and make sure everything inside your restaurant is cleaned and maintained perfectly.
4. Cleaner Uniforms
If you invest in janitorial services, your staff can wear cleaner uniforms, and it is easier to keep a set of clean uniforms nearby at all times. Staff will not complain about having to wear dirty uniforms as they sit on a pile of dirty laundry at home.
5. Better Food Preparation And Greater Staff Efficiency
A clean kitchen is essential for any restaurant business. It helps with the preparation of food and keeps the staff efficient. A cleaning service can help keep your kitchen clean so that you can focus on other aspects of running your business.
6. Your Restaurant Will Have A Better Reputation
Customers are not the only ones who judge a restaurant by its cleanliness. Inspectors from the health department also regularly check restaurants and can shut them down if they do not meet their standards. By keeping your restaurant clean, you can avoid any negative publicity and potential shutdowns.
So if you're looking to own a restaurant business, you might want to consider hiring cleaning services to address basic hygiene matters and keep your restaurant clean and hygienic. Contact We Clean It today to inquire about our cleaning services for businesses in Toronto and the GTA.