4 Summer Commercial Cleaning Challenges
Posted on 15 July 2021
The summer brings unique challenges to commercial spaces that are filled with employees, patrons, visitors, and any other passersby. The unique cleaning parameters in combination with revised cleaning updated following the COVID-19 pandemic puts a lot of pressure on businesses to stay on top of commercial cleaning. With the help of a professional commercial cleaning service in Toronto, like We Clean It, you can ensure your business gets a good clean without the stress of taking it on yourself.
Look out for these 4 Summer challenges that you should pay special attention to while you clean.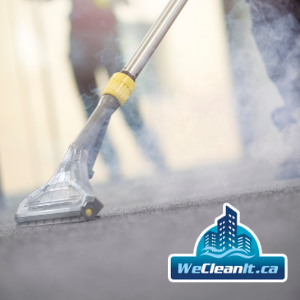 Allergens
Spring and summer time sees different flowers blooming in rotation while beautiful to look at, pollen carried indoors by the wind can be quite a different story for those who suffer from seasonal allergies. Ragweed, one of the summer's most prominent allergens, is especially difficult to rid any indoor space of without the support of a commercial cleaning service in Toronto. The allergen can travel for hundreds of miles and is typically widespread until the first frost of the season. The presence of ragweed and other pollen producing plants means that during the summer, office cleaning in Toronto must be more diligent and frequent to eliminate dust particles, pollen, and other allergens. At We Clean It, we develop a custom cleaning schedule that tackles hard to reach places where dust can settle and pollen can settle.
Mold Spores
Mold spores exist naturally outdoors but enter freely into open windows and doors through the wind, but they don't always thrive. However, in the summer, rain, heat, and humidity in the summer creates conditions more favourable for an infestation of mold. Once mold grows in small or closed spaces it releases foul odours and impacts air quality causing headaches and allergic reactions. When you hire a commercial cleaning company in Toronto, comprehensive and regular sanitization and cleaning practices actively target mold before they can flourish and spread. At We Clean It, our team of cleaning professionals uses strategic cleaning methods the prevent bleach and
Garbages
Rotting food in the winter is bad, the heat of the summer accelerates deterioration of organic matter which can release odours into the air and lead to potential mold and fungus growth. This can be unbearable for anyone on the premises and make coming to work difficult. At We Clean It, we offer complete office cleaning in Toronto which means in addition to disinfection, we will promptly remove waste and empty garbage regularly from the workplace, so even if it slips the mind of workers it will be done without negatively impacting anyone's day.
Floors
The summer brings lots of rain to the city and wet weather means more dirt is being tracked indoors. Depending on the amount of traffic in your store, office, or facility dirt can accumulate. Dirt carries germs, bacteria, and makes visitors and employees feel unwelcome. It's important to pay attention to mopping and wiping down tiles and washing carpets, especially after rain.
When you get the support of We Clean It, you can tackle all of these seasonal challenges easily.
Thorough retail and office cleaning in Toronto will not only keep your employees and customers safe. Good care of your commercial space will also boost employee morale which in turn boosts customer satisfaction and brand loyalty.
Contact We Clean It today to find out more about our services.