4 Key Reasons to Communicate with Your Office Cleaning Company in Toronto
Posted on 23 August 2021
The cleanliness of an office significantly affects the environment and atmosphere, which can make all the difference for employees, visitors, and clients. That's why you should ensure that you choose an office cleaning company in Toronto that is willing to communicate. The relationship between any service provider and their client is imperative to a successful partnership. This is true when it comes to cleaning services for businesses in Toronto too.
Here are 4 key reasons why communicating with your janitorial service is essential.
Avoid Any Mix-Ups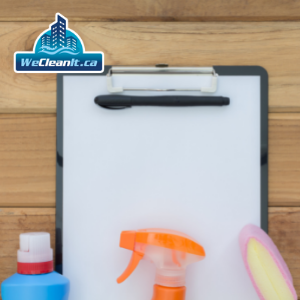 A misunderstanding that doesn't get cleared up can be harmful to any business relationship, which no one wants. Without proper communication or a reliable communication channel, an office manager may not understand why some tasks are being completed more frequently or why certain products are being used. Instead of leaving these questions to fester unanswered, a call, email, or even a text message can provide instant clarification of what is planned to happen and what changes can be made. Every office cleaning service in Toronto will have its own preferred method of communication. Still, it's typically best to communicate through a channel that can be recorded like email, which creates a reliable reference point where details can be looked up on-demand.
Improve Your Cleaning Results
Have you noticed that something is being missed after a visit from your cleaners? Some cleaning services for businesses in Toronto go into an office without a plan, but at We Clean It, our team develops strategic cleaning plans designed to effectively sanitize and clean your office. When you communicate needs that fall outside of the cleaning plan, we can strategize to incorporate any new focuses into a revised approach. When businesses neglect to inform their commercial cleaning company of their priorities, the service provider has no choice but to rely on their survey and impression of the office.
Stay In The Know
Whether it's through talking about business or just small talk about the weather, staying in touch with your office cleaning company can give you a foot in the door to new services that they may be offering. At We Clean It, we provide cleaning services for businesses in Toronto in more ways than one. In addition to office cleaning, we provide corporate event cleaning services too. If a client is aware of the varying services and specials their cleaners offer, they could benefit by being in the know through subscribing to email updates or straightforward communication.
Easy Emergency Contact
Often, a commercial cleaning company in Toronto will begin their work after business hours when the office is vacated. During this time, it isn't unheard of for emergencies or time-sensitive situations to occur, whether it's a stray alarm, an unexpected call or visitor, direct contact between a manager and a janitorial service provider will allow everyone to quickly and adequately deal with these situations.
At We Clean It, we operate by the understanding that communication breeds respect, understanding, and good results.
Call or message us online to learn more about our office cleaning services in Toronto.