4 Commercial Cleaning Services for Your Office Party
Posted on 08 November 2021
December is right around the corner, and businesses in the Greater Toronto Area are getting started on holiday party plans. As one could imagine, the excitement of planning and throwing a team party after a couple of years where gatherings were limited. If you are coordinating a special event for your employees, consider how commercial cleaning services in Toronto fit into your plans.
With the scariest parts of the pandemic behind us, many people are still hyper-focused on the organization and cleanliness of their office space. At an office holiday party, it can be difficult to maintain elevated standards without the support of outside office cleaning services in Toronto.
Here are some ways an office cleaning service in Toronto can be factored into your holiday plans for maximum success and fun.
Pre Party Prep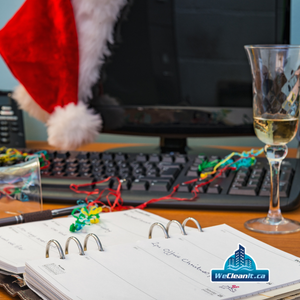 Before your guests arrive, whether you're hosting your party at your office or separate venue, commercial cleaning services in Toronto will help prepare the environment, so it's clean and welcoming. At We Clean It, we go beyond just office cleaning services in Toronto. We offer event cleaning and can tailor our comprehensive cleaning services to virtually any commercial setting. The main reason for hiring a janitorial service to clean before an event is to prep the space to maximize hygiene and comfort upon arrival. In some cases, when venues are not cleaned properly from the previous event, surfaces can be dusty, sticky, and unorganized. When you choose the We Clean It for commercial cleaning services in Toronto, you won't have to stress about the care of your office. You can focus on throwing a great party.
Bathroom Clean Up
At any event, the state of the restroom is key to how comfortable guests feel and how long they stay. Repeated cleaning and disinfection during an event not only shows your guests and employees that you care about their well-being, it also makes them feel comfortable staying longer.
Trash & Junk Removal
As guests eat, drink, talk, maybe even open up presents, it's not far-fetched that garbage cans would get full quite quickly. With the We Clean It team on site, you can depend on us to take the trash out regularly before garbage gets to the point of overflowing. This helps maintain a good and accessible environment for everyone in attendance.
Post-Event Clean Up
We Clean It offers complete post-event clean-up services for businesses in hosting parties at their own office or separate venues. When you opt for a commercial cleaning company for cleaning, you can be confident that you will not compromise your security deposit on a holiday party venue. Or, for those hosting parties at their office, you can rest assured that you will return to a clean and tidy office in the new year. Our post-event commercial cleaning services include but are not limited to site teardown, trash & junk removal, recycling, trash hauling, sidewalk sweeping and more.
With high-level office cleaning services from We Clean It, you can throw a safe and healthy holiday party for your team.
Contact us to learn more about our event clean-up services for businesses.