5 Things To Look For In A Toronto Commercial Cleaning Company
Posted on 26 March 2021
Hiring an expert commercial cleaning company in Toronto is crucial to maintaining a safe and productive workspace. Commercial cleaning not only ensures a healthy workspace but also exudes professionalism while reducing employee downtime. However, with the plethora of commercial cleaning services in Toronto, finding the right office cleaning company can be challenging! Look for these 5 things to select the best option for your establishment:
#1 Experience & Competence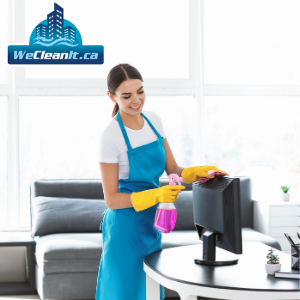 Your office space is an inalienable part of your business image. You need to hire an experienced commercial cleaning service that understands the value of first impressions. A company with experience in cleaning office premises will know how to safely clean and sanitize laptops, printers, and other office appliances. Another aspect is competence—the company should have established cleaning protocols, the right cleaning equipment and trained staff. Commercial grade equipment with the latest in cleaning technology will ensure efficiency and proficiency.
#2 Trained & Certified Cleaning Crew
Professionalism does not only mean shiny uniforms; competence in the job at hand is what counts! Make sure you do a thorough background check about the certification and training of the professionals you hire. They should be trained in cleaning regimens like care of carpets, furniture, office electronics etc. Training in the usage of specialized cleaning equipment is a must.
#3 Trustworthiness
You should be able to trust the cleaning company you hire. The company should be transparent about its prices and the services provided. All reputed commercial cleaning services in Toronto offer a transparent service contract that details the cleaning protocols and the prices. Check out reviews of the shortlisted company on their website and other review sites like Google, Facebook, & Yelp. You can see their customer satisfaction ratings and even speak to a few references about their services.
#4 Green Clean & Sustainability Check
With increasing emphasis on sustainability, you want to reduce your company's carbon footprint and do your bit for the environment. An environmentally conscious cleaning company such as We Clean It will use green cleaning products with green seal certification. This means that they have been tested and certified as non-toxic and eco-friendly. Even the equipment should be green—meeting the approved standards for filtration and noise levels.
#5 Commitment to Quality & Safety
Lastly, look for a commitment to providing quality services with an emphasis on safety. With the COVID-19 pandemic raging on, the cleaning professionals must do a thorough cleaning job, including complete disinfection to mitigate cross-contamination risk. Sanitizing high traffic areas and equipment every day is a must during these uncertain times. Quality commercial cleaning services in Toronto will go beyond routine cleaning and lay equal emphasis on safety. Commitment to safety also means placing correct warning signage to prevent accidents, slips and falls.
Looking for the Best-in-Class Commercial Cleaning Services in Toronto?
Well, look no further than We Clean It, the best full-service office cleaning company that Toronto trusts! With more than 20 years of commercial cleaning expertise, We Clean It has provided top-tier cleaning solutions for a clean & safe office every day. Our cleaning services are customized to suit every business size & budget! Allow the experts at We Clean It to take care of your cleaning & safety needs while you focus on your business—call us today on 647-999-6898 or email info@wecleanit.ca complete office cleaning in Toronto.